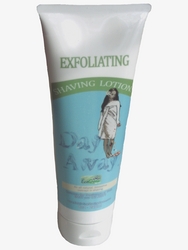 Purity and wholeness for the skin
Grand Rapids, MI (PRWEB) October 8, 2008
Day Away, Inc. announces the new release of their revolutionary and cutting edge Exfoliating Shaving Cream® product line now available on their Web site, http://www.ExfoliatingShavingCream.com . These products take Shaving to the next level turning a daily routine experience into a ritual of pleasure.
Realizing that we spend thousands of dollars a year on our faces while neglecting our legs, Day Away created efficiency, effectiveness, enjoyment, and excitement for one of life's most mundane tasks-Shaving.
"This product line will forever change the face of Shaving," says Co Founder - Susan Harris. "This is nothing ordinary. Our products revolutionize how women (and soon men) Shave because of how we effectively engineered a cutting edge, Eco-Green, All Natural Exfoliating Shaving Cream® all into one product"
Founded in Grand Rapids, MI by Tom Ralya, President, and Susan Harris, Founder, Day Away, Inc. has done something unique and revolutionary: they have combined Exfoliation with Shaving Cream to produce not just the closest Shave possible, but infused health and wellness into the process while saving people time and money.
How revolutionary? "We believe this product will do to shaving what the cell phone has done to the telephone - out with the old, in with the new," says Tom Ralya - President of Day Away, Inc.
Unique applications of cosmetic chemistry used in dermabrasion technology have been combined with anti-inflammatory, anti-septic, and antioxidant ingredients creating a "first AND only" product that will generate the closest shave possible, radically reduce nicks, and soften skin while moisturizing it as well.
Because the process first removes the dry flaking and dead skin cells, then softens the skin and hair which relaxes the tissue around the hair, the soft hair shafts allow for a cleaner cut with less resilience so each hair is removed closer to its root.
This produces the closest and most pleasant shave experience possible with fewer nicks and redness. University tests have proven that exfoliating during the shaving process greatly improves the closeness of the resulting shave.
"Shaving with Exfoliating Shaving Cream® is a revolutionary experience in Shaving that turns a daily routine into a 'Ritual of Pleasure'...", says Susan Harris.
Day Away introduces the concept of Derma-purology® - "Purity and wholeness for the skin". Since skin is an organ and absorbent, our products are free from synthetic fragrances, mineral oils, color, paraben, formaldehyde, alcohol or petrochemicals found in many leading products marketed today.
The all natural, holistic ingredients are so advanced that they promote skin health, feed healthy cell growth, while enhancing the body's natural defenses against environmental stressors.
Essential oils and herbal extracts we've infused into the lotion help relax emotions as well as sensitive skin conditions. The citrus oils' acidic properties help balance pH as well as protect the skin from infection and inflammation.
Not to be single minded, Day Away is also highlighting their newly released Exfoliating Shaving Cream® with an effective and complimentary moisturizing product called UltimateSilk Glistening Lotion® which completes the after-shave process by locking in moisturizers and Vitamins A, D, & E into the skin while providing organically certified herbals and essential oils, peptides, and anti-oxidants that produce soft, resilient skin with a healthy, vibrant shine.
Day Away will release several new Anti-Aging and Anti-Wrinkling products in January, 2009.
###