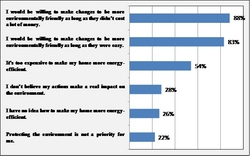 Choosing clean electricity made from non-polluting resources, such as wind and water, is one of the easiest things a household can do to help reduce its footprint on the environment
Austin, TX (PRWEB) October 7, 2008
As Energy Awareness Month, kicks off in October, many Americans are seeking ways to limit energy use in their homes. Yet some remain confused about which steps to take and how to make the greatest impact. In a new survey commissioned by Green Mountain Energy Company and conducted by Harris Interactive®, 88% of U.S. adults said they would be willing to make changes to be more environmentally friendly as long as it didn't cost a lot of money, and 83% would be willing to make changes if they were easy.
Adults also were asked which energy-saving habits they would be absolutely unwilling to adopt on a regular basis; more than three-fourths (77%) indicated they would be unwilling to adopt certain energy-saving habits, including:
-- 39% would be unwilling to ride a bicycle instead of using their car
-- 32% would be unwilling to regularly use public transportation
-- 21% would be unwilling to carpool
-- 19% would be unwilling to open windows instead of using air conditioning
-- 16% would be unwilling to unplug household appliances when not in use
-- 11% would be unwilling to use less water
In Texas, adults were particularly unwilling to make changes to their transportation-related habits, with two-thirds (67%) indicating they would be unwilling to adopt changes to the way they get around town . Nearly half (46%) said they're unwilling to ride a bicycle instead of using their car, and more than one-third (37%) said they're unwilling to use public transportation on a regular basis.
"By taking steps to conserve energy, consumers can also reduce the pollution caused by their household and their individual actions," said Paul Markovich, Senior Vice President of Residential Services for Green Mountain. "In fact, the survey revealed that about half of all U.S. adults mistakenly believe automobile emissions are the leading cause of air pollution. Only about one in five knows that the leading cause of industrial air pollution is actually from electricity generation by power plants using fossil fuels."
The Green Mountain-sponsored survey also revealed that 28% of consumers do not believe their individual actions make a real impact on the environment. "Choosing clean electricity made from non-polluting resources, such as wind and water, is one of the easiest things a household can do to help reduce its footprint on the environment," Markovich said.
While some consumers may question the impact of their individual actions on the environment, the survey revealed that the vast majority of adults (91%) believe in "environmental sins" - personal actions, or lack thereof, that affect the environment and prompt feelings of guilt. Of those, approximately one-fourth (24%) cited "not recycling household items" as the No. 1 environmental sin they feel most guilty about, followed by "not unplugging household appliances when not in use" (13%), and "pollution caused by driving my car" (12%).
Finally, the survey also asked U.S. adults which popular television family they think acts the most "green," based on certain attributes associated with the characters and households:
-- 39% selected the Ingalls family from "Little House on the Prairie," because they lived off the land.
-- 25% selected The Flintstones, because Fred powered his car with his feet and they always had the windows open.
-- 9% selected The Jetsons, because they used future energy sources.
Energy Awareness Month, an annual event each October, is sponsored by the U.S. Department of Energy's Federal Energy Management Program. This year's campaign theme is "Working to Secure a Clean Energy Future, Where Energy is Abundant, Reliable, and Affordable." The campaign promotes energy-saving practices and encourages everyone to work together to make wise energy choices.
Survey Methodology
This Energy Awareness survey was conducted online within the United States by Harris Interactive on behalf of Green Mountain Energy Company between September 19 and September 23, 2008, among 2,507 adults ages 18+, of whom 156 reside in Texas. No estimates of theoretical sampling error can be calculated. For full survey methodology, please contact Benjamin Larkin at (214) 303-6047.
About Green Mountain Energy Company:
Green Mountain, the nation's leading provider of cleaner energy and carbon offset solutions, was founded in 1997 "to change the way power is made." The company is the longest serving green power marketer in the U.S. and was ranked the highest in residential customer satisfaction with retail electric service in Texas by J.D. Power and Associates. Green Mountain offers consumers and businesses the choice of cleaner electricity products from renewable sources such as wind and water; and carbon offset products through its BeGreen division (http://www.begreennow.com). Green Mountain customers have collectively helped avoid over 4.1 million tons of CO2 emissions. For more information, visit http://www.greenmountainenergy.com.
Green Mountain Energy Company received the highest numerical score among residential electric service providers in Texas in the proprietary J.D. Power and Associates 2008 Texas Residential Retail Electric Service Satisfaction StudySM. Study based on responses from 2,572 consumers measuring 8 providers and measures opinions of consumers with their electric service provider. Proprietary study results are based on experiences and perceptions of consumers surveyed in June 2008. Your experiences may vary. Visit jdpower.com.
###