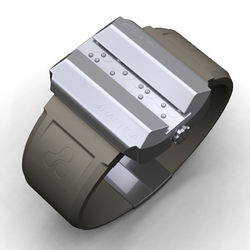 Haptica is a moveable Braille timepiece that provides a quick and accurate time reading. The product is unique in providing a real-time readout in Braille which the reader scans along with their finger to check the time
New York, NY (PRWEB) October 7, 2008
A new exhibition opens this week in San Francisco that profiles the work of today's finest design talent.
The Spark 2008 Design Awards put more than 600 entries under the microscope last month, with the best being selected by a jury of prestigious names in global design. The winners are now on display at America's most exciting new design hot spot - the dazzling Autodesk Design Gallery, at One Market Street, San Francisco.
"All the Spark entrants and entries tell wonderful stories," explains Peter Kuchnicki, executive director of Spark. "There were a great number of designs in the competition and it was very competitive. The 14 jurists had a daunting task and did a fine job."
Spark is a fresh, modern qualification system that recognizes new processes and technology and seeks to involve people and ideas from untapped sources. Designers from all levels and skill-sets are invited to participate, be they professional, novice or student. This year's competition attracted designers, art directors, architects, design firms, manufacturers, institutions and ad agencies.
84 designs won bronze, silver, gold or the ultimate Spark! Award. These top 17 winners secured a Spark! commendation:
Haptica Braille Watch
Designer: David Chavez
"Haptica is a moveable Braille timepiece that provides a quick and accurate time reading. The product is unique in providing a real-time readout in Braille which the reader scans along with their finger to check the time"
Grow Bike
Designer: Springtime
"Children need a lot of different vehicles in their first 4 years, creating a lot of cost and occupying a lot of space. The GrowBike is actually a set of parts that can be assembled into 4 different bike designs, step by step as your child grows."
Treepac
Designer: Essential Design
"Ever wonder how many cardboard boxes the world really needs? Treepac is a reusable shipping container intended to replace them for most business-to-business, business-to-customer and person-to-person shipping. The pack is meant to be used like a cardboard box but can serve again and again."
Rainwater Hog
Designer: Sally Dominguez
"Harvesting rainwater is a smart idea but designs have been basic until now. Rainwater HOG is a rain rescue and storage tank designed as a water-filled building block. It was designed by an Australian architect battling with drought who saw a lack of options for domestic-scale urban rainwater catchment."
NYC Condom
Designer: Yves Behar, Fuseproject
"Vaguely reminiscent of a condom shape warped into the surface of one's leather wallet, the NYC Condom Dispenser needed to be distinctive anywhere from trendy restaurants to homeless shelters. It has the equivalent impact of that of the fire-hydrant: immediately recognizable for its simple function, in this case to distribute condoms."
Livraria da Vila
Designer: Isay Weinfeld
"A beautiful bookstore in São Paulo. Whichever direction one looks at, there are books, and an unpretentious feel, like a used-book store, making customers at ease to browse the shelves for the books they want, to leaf through or even read them in the couches and easy chairs scattered around the multiple stories."
Karbon Faucet
Designer: Kohler
"The ultimate tap. Karbon has two water flow options; laminar, chosen for its continuous tube-like water flow, and a spray for cleaning and prep work, controlled by a valve hidden in the countertop and operated by the touch of a joystick with a smooth, elegant motion. It's dynamic, functional, sculpture."
Eton Field Radio
Designer: Dan Harden, Whipsaw
"Two consumer field radios for use outdoors and in the home. With hand-cranks and solar panels, they are designed to always work, suiting outdoor types and survivalists. There's a two-way walkie talkie, cell phone charger, flashlight, siren, and SOS light beacon."
Dyson Airblade
Designer: James Dyson
"Whilst developing air knives for a different project, Dyson found that the force of air created by its Dyson Digital Motor (DDM) would scrape water from hands, leaving them completely dry. The company has gone on to build the fastest, most hygienic hand dryer on the market."
Swarovski Morpheus
Designer: Yves Behar, Fuseproject
"Swarovski challenged Behar's team to 'reinvent' the chandelier for its 'Crystal Palace' collection at Art Basel Miami. The design deconstructs what a chandelier is, and explores what it could be. Rather than just a static, traditional object to be viewed, Morpheus is a chandelier that changes its form, becoming animated, through interaction with the viewer."
Neat Receipts & NeatDesk
Designer: Smart Design
"Mobile and desktop scanners that are part of a series of products designed to help you get rid of receipts and paperwork. Best of all, the products feature hardware and software designs that have been stripped of visual noise to simplify the product and process."
Vite - Rescue Stretcher
Designers: Kim, Lin & Zea
"A collapsible stretcher designed to rescue the injured patient as fast as possible in the snow. The backpack shell works as a sled, allowing a patient to be carried by one person. Other products on the market are designed to be used by two people. The Vite can be be easily opened in order to minimize the time spent setting up the sled for an injured patient."
OLPC Yoyo
Designer: Yves Behar, Fuseproject
"An ingenious laptop charger designed to charge the pioneering One Laptop Per Child (OLPC), without the need for mains electricity. Designed like a yoyo toy, the strap is looped through the unit allowing for easy connection to a chair leg, tree branch, etc and resistant against the mechanical force exerted by the user."
OLPC XOXO
Designer: Yves Behar, Fuseproject
"The XO-2 laptop will be about half the size of the first generation One Laptop Per Child (OLPC), being about the size of a book. The new design is lighter and easier for children to carry with them to and from school or wherever they go. Dual-touch sensitive displays will be used to enhance the e-book experience, with a dual-mode display similar to the current XO laptop."
Moen Cascata
Designer: Essential Design
"A bathroom faucet that "pours" by tipping the spout like one would tip a pitcher of water. It's an attempt to recover some of the natural flowing behavior of water and reconnect people with the aesthetic qualities and personal meaning associated with water and cleansing."
Mobile Performance Venue
Designer: Various architects
"A lightweight and easily transportable venue that is also a unique and iconic structure. When it becomes the Arts Alliance Productions' home in 2009, it will be the largest mobile venue in the world. A 90m x 60m oval, it ranges from 10m to 17m tall, and has 3900m2 of covered space. The central performance space (2000m2) will hold a standing audience of 3500 people."
Fuego Modular
Designer: Robert Brunner, Ammunition Group
"A bold, new and customizable outdoor kitchen that expands on Fuego's trendsetting social hub concept. Fuego Modular has an aluminum frame to accommodate grills, burners, warming drawers, storage, and refrigeration units."
Other winners in the Gold, Silver and Bronze categories are as follows:
GOLD
California Academy Sciences Pentagram
Integrated Light Pole SOM
Pearl River Tower SOM
Relief Housing Laura Garofalo
RED Inflight Entertainment Virgin America
Stack City
Spongecomb Anderson Anderson Architecture
Pae White: ''Lisa, Bright & Dark'' Osborn
OXO Pour & Store Watering Cans Smart Design
Miller Revolution Safety Harness Daedalus
MGX Consequence Lamp One and Co
GREENKITCHEN Whirlpool
Flip Video Ultra Smart Design
Aliph Jawbone Bluetooth Headset Fuseproject
Adiri Natural Nurser Baby Bottle Whipsaw
100 American Flags Pentagram Design
SILVER
Light to Form Sohin Hwang
Y Water Fuseproject
Cabin Interior Virgin America
U.S. Census Bureau Headquarters SOM
The Protons IDEO
Teneo BirselPlusseck
SVA Yearbook 2008 School of Visual Arts
SVA Senior Library 07 School of Visual Arts
SpaceStation Blue Lounge
one or a bunch vase Seven02Design
NYC Helmet Fuseproject
Mimique Cell Phone Concept RKS Design
Lock-N-Lift Can Opener RKS Design
Lining Of Forgetting: Internal and External Memory in Art Volume Design
Interrupted Jaekyung jung
Mpala Health Education Sara Hofmann
Hawaii Portable Classroom Anderson Anderson Architecture
Ballona Wetlands Field Lab Otis College Integrated Learning
ERCO Emanon Fuseproject
Ditto PAPER hangers GreenHeartGlobal
Chess Kin Wai & Michael Siu
Botanist Blank Canvas Orange22 Design Lab
A Century of CCA Volume Design
Architec urinal Duravit USA
Formica Lounger SOM
HM LEAF Lamp Packaging Fuseproject
BRONZE
Zon Hearing Aid Stuart Karten Design
Western Digital, My Book 2 IDEO
Tragon Capabilities Brochure Pentagram Design
TOK TAK Taewan Kim
The Sanctuary Blue Lounge
TalkChart Pop-Out Alan Robbins
Sustainable Living Coffin IDEO
Solay Running Shoe Continuum
Smart Touch Salad Spinner RKS Design
SHN Addis Creson
100 Baseball Icons Pentagram Design
Revolution Door Fluxxlab
Qatar Petroleum Mosque SOM
Paperclip Lamp Teague
Panamap Urban Mapping
Mix-n-Measure Measuring Cups RKS Design
Livescribe Pulse Smartpen Seven02Design
Kidfresh Addis Creson
ITC Fashion Show Catalog Frankie NG
GINA Fabric Skin Car BMW AG
Filtainer Kin Wai & Michael Siu
Coca-Cola Refresh Bin Fuseproject
Chameleon truck Haishan Deng
Cardinal Health Mia Modocarts
Between Earth and Heaven Volume Design
More information can be found at http://www.sparkawards.com
Media enquiries: contact Mark Charmer
###