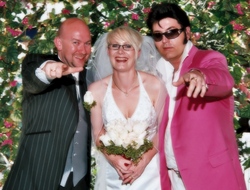 It's so nice to get married, celebrating our love. It spices up our lovelife and keeps the fire burning
Las Vegas, NV (PRWEB) October 8, 2008
Anette and Kenneth Lund loves romantic weddings and they don't try to hide it. "It's so nice to get married, celebrating our love. It spices up our lovelife and keeps the fire burning," says Anette Lund.
The couple just recently returned from Las Vegas and four very different weddings.
Their big day kicked off in a traditional, romantic wedding at The Venetian, Las Vegas. Anette got married to Kenneth in a white gondola with the soundtrack of Italian lovesongs. The couple followed the Italian tradition of kissing every time they passed under one of the many bridges.
Next wedding was an Elvis-drive-in-wedding, where the couple got married once again, standing up through the sun roof of a gigantic limousine, accompanied byt Elvis, singing his famous love songs.
The cult status Elvis-wedding led to the next wedding, being held at a helicopter, hoovering above the skyline of Las Vegas famous The Strip, with all the casinos below. This was a nice break before the last of the 4 weddings - the challenge of a skydive wedding!
"It was super cool to be able to do it all - from full throttle, blue jeans and t-shirt skydive to the intimate, romatic wedding in the wedding dress of my dreams. Your first wedding needs to be perfect and you're often nervous and maby not that 'present' and relaxed. To get married more than once, allows you to relax and be yourself - enjoying the ceremony and the people much more and it's a wonderfull feeling when declaring your love all over again", Anette explains.
Where exactly the next wedding will be, is still not clear, but Anette and Kenneth would like to get married during a ride on the world famous "Orient Express" train from the Agatha Christie murder crime storie and also on the Chinese Wall, but before that, they want to get married, swimming with dolphins.
Have a look at the pictures of the world record weddings at http://www.bryllup.dk and http://www.weddingtools.com
For interviews, please call Kenneth Lund at 0045 25 13 87 80
###