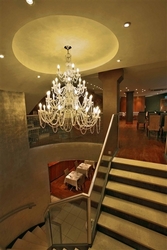 London, Greater London (PRWEB) October 9, 2008
The France Show 2009, at Earls Court 9th-11th January is definitely an event 'foodies' will not want to miss.
Aside from the Can-Can girls, the travel experiences, the French property exhibition, the wine and champagne-tasting, this year's show will feature more top quality French cuisine than even last year's record event.
To enhance your cooking techniques, there'll be a programme of free cookery demonstrations each day, many featuring the UK's favourite French chef Jean-Christophe Novelli within the Novelli Academy Cooking Theatre.
Then, once the appetite has been whet, visitors will be able to sample signature dishes prepared by some of the UK's favourite French restaurant brands including Cafè des Amis and Mon Plaisir, as well as a few new treats.
Returning for the second year, Cafè des Amis brings to the France Show its parisian chic brasserie style. Carefully sourced ingredients, eclectic flavours, surprising alliance of mediterranean and asian styles, your taste buds will celebrate Executive Chef Fabrice Renou's abilities to transform classical recipes into contemporary food.
Cafè des Amis will offer guests booking on the website http://www.cafedesamis.co.uk and mentioning the France Show 2009 a complimentary glass of Prosecco.
Established over 25 years Cafè des Amis Restaurant & Bar is an institution in Covent Garden for good quality food. Just off Long Acre, Hanover place is a peaceful alley away from the hustle and bustle of central London where you can enjoy an al fresco meal. Cafè des Amis is an independent restaurant and whenever possible sources its products locally.
More than a restaurant, Cafè des Amis is ideally located in central London to welcome you and your guests for all occasions. The elegant first floor Renaissance room is ideal for large corporate and private events up to 100 guests, while the Long Acre private room will suit smaller private parties and confidential business meeting up to 20. The Wine & Champagne bar is the ideal place to share a bottle of wine and a plate of cheese with some "Amis"…
Noted as one of London's oldest French eateries, Mon Plaisir has been dishing up classic Gaelic fare since the 1940's. With a proud French flag dancing outside of the restaurant and the interior sparkling like a French brochante, Mon Plaisir is not only a treat for the tastebuds but also a treat for the eyes.
Classic regional fare and vibrant atmosphere make it a popular destination which keeps people coming back again and again.
Excellent value Pre and Post-Theatre menu will make sure you will leave on time and well fed for your show or you could take advantage of the set lunch which changes daily.
Every second Monday of the month Mon Plaisir offers a set menu from a different region in France, a complimentary glass of Champagne with the menu all accompanied to the strains of our Accordion player.
In addition to these excellent restaurants, there will be a new Champagne & Oyster Bar, a new Jean-Christophe Novelli bistro and food sampling at virtually every turn.
Tickets for The France Show 2009 are free if you register at http://www.thefranceshow.com before 30th November 2008. After this date, all tickets will be £10 each.
###