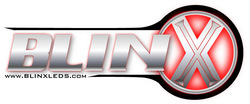 With BlinX our customers can make their vehicles stand out from all the others on the road, even at night. For a price anyone can afford.
Oakland, FL (PRWEB) October 9, 2008
The hottest new wheel illumination product on the market debuts at The SEMA Show in Las Vegas: BlinX extreme wheel illumination.
BlinX is small colored LED lights that are a cinch to install on any wheel for an eye-catching look, especially at night. Customers choose the colors, placement and quantity for a customized, unique look. Not since chrome plating has the market seen an innovation in wheel accessories like BlinX.
For customers who invest in custom wheels and pimped rides, getting noticed at night can be a challenge. Until BlinX.
Once attached to the wheels, BlinX reflects off the different facets of the rims like lights off a disco ball BlinX is sold in sets of four, but customers are encouraged to buy and install several lights per wheel: more lights mean more impact means more heads turned. And since BlinX is priced at just $24.95 to $27.95 per set, buying multiple sets is still far less expensive than other wheel illumination options.
"It's a very dramatic look," says BlinX founder Steve Washington. "With BlinX our customers can make their vehicles stand out from all the others on the road, even at night. For a price anyone can afford."
BlinX is hard to ignore, fully customizable and easy to install on any wheel. It's also much more affordable than pricey LED display wheels…and doesn't require complicated installs or special equipment. Customers need only a flat surface ¾ inch wide by 1 ½ inches long (16 cm x 30 cm) anywhere on the wheel for the LED to stick to.
BlinX patented technology was developed using a special 3M VHB (Very High Bond) tape to achieve the bonding forces necessary to withstand the g-forces, shock and heat encountered when adhering to wheels, without causing damage to the wheel itself. This tape is derived from a line of 3M tapes that hold large panes of windows and sheets of metal in skyscrapers. BlinX is water resistant and comes with three batteries per light that are easily replaced.
Buyers and customers can experience BlinX firsthand during The SEMA Show at the Las Vegas Convention Center (Wheel & Tire section, South Hall 2, Booth #41418). To see BlinX in action prior to The SEMA Show, go to http://www.blinxleds.com and watch the video.
About BlinX
BlinX, a division of In-Motion Products LLC, was founded by an industry insider that saw both a need and an opportunity in the custom wheel market for wheel illumination. BlinX is dedicated to expanding the concept of wheel illumination through modern technology and innovation. Wheel illumination is a new and virtually untapped automotive aftermarket segment in a $9 billion industry. BlinX is leading the way with cutting-edge, high impact, affordable wheel illumination products. For more information, go to http://www.blinxleds.com.
About The SEMA Show
Held November 4 to November 7, 2008 at the Las Vegas Convention Center, The SEMA Show is the premier automotive specialty products trade event in the world. It draws the industry's brightest minds and hottest products to one place. As part of the AAIW, the SEMA Show attracts more than 120,000 industry leaders from over 100 countries, and serves the automotive, truck and SUV, and RV markets. The displays are segmented into 10 sections, and a New Products Showcase features more than 2,000 newly introduced parts, tools and components. In addition, the SEMA Show provides attendees with educational seminars, product demonstrations, special events, networking opportunities and more. More information is available at http://www.semashow.com.
###