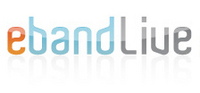 We are all musicians here at ebandLive and we know first hand that band budgets are tight no matter what the economy is like. Having a shared content management system enables us to keep web development costs to the bare minimum and we're able to pass those savings on to our clients while maintaining a very feature-rich product
Minneapolis, MN (PRWEB) October 8, 2008
ebandLive, a provider of an innovative new wave in web development for the music industry, has officially made its debut. The company's premium design service is based on a central Content Management System (CMS) that allows bands to take advantage of the same flashy features used by major label bands at the same time making it affordable.
"We are all musicians here at ebandLive and we know first hand that band budgets are tight no matter what the economy is like. Having a shared content management system enables us to keep web development costs to the bare minimum and we're able to pass those savings on to our clients while maintaining a very feature-rich product," said Jeremiah Talamantes, Founder of ebandLive. "Our services are built upon years of design and web development experience within the music industry. We know what the record labels and fans are looking for and it's our mission to enable our clients for success!"
ebandLive's Premium Design Service is broken down into two parts: We Design and You Design. Simply put, the We Design service employs the work of ebandLive designers to collaborate one-on-one with the band in an effort to crank out a top notch website. The You Design service empowers the band to use their designer of choice. ebandLive's You Design wireframe PDF, intended to guide designers, takes most of the guesswork out of this process.
ebandLive connects bands with their fans using the latest in web development technology. Such features include:

Integration into the ebandLive CMS
Mobile and iPhone version of the site
RSS feeds of band content
Hosting
Email (unlimited)
Analytics
Audio player
Video
Downloadable media
Show listings
News
Blogging
Domain name
Multi-level users
Directions to shows
Where to buy tickets
Support
...more…
The Premium Design Service's best feature, however, may be its cost. "You can expect to pay several thousands of dollars for a managed website with the features we offer. For the majority of musicians out there, that's just simply unreasonable. We aim to create professional band websites that anyone can manage and afford," said Talamantes.
ebandLive services are built on solid music industry experience. Talamantes taps into his rich experience from both owning and operating an independent record label and multimedia design firm as well as working for an established record label. Business partner, Dan Behrens, brings forth his experience owning and operating an artist management company as well as designing creative content from big name musical acts to the corporate giants. Both individuals are active musicians who are devoted to developing creative websites for musicians of all genres.
ebandLive's Premium Design Service unites bands with fans through a plush multimedia experience easily, stylishly and affordably.
Visit us at: http://www.ebandlive.com.
For more information please contact:
Jeremiah Talamantes
ebandLive.com, LLC
+1 888 321 1027
125 Main Street SE, Suite 240
Minneapolis, Minnesota 55414
USA
About ebandLive:
ebandLive is a provider of an innovative new wave in website development for the music industry. Headquartered in Minneapolis, Minn., ebandLive is led by founder Jeremiah Talamantes and partner Dan Behrens.
###