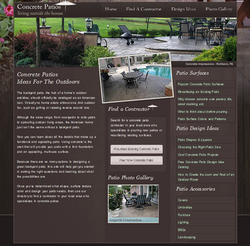 Yucaipa, CA (PRWEB) October 10, 2008
New website, ConcretePatio.org functions as an A to Z guide for consumers interested in investing into their backyard living spaces. Because there are so many options to designing a great backyard patio, this site will help homeowners get started in asking the right questions and learning about what the possibilities are.
Covering topics like popular concrete surfaces, patio design and ideas, and accessories the site also features an extensive online photo gallery to gain inspiration from. Its comprehensive articles cover popular concrete surfaces, why to choose concrete over other materials and patio shapes and layouts to help consumers sort through the many options.
Although the sizes range, from courtyards to side yards to sprawling outdoor living areas, the American home just isn't the same without a backyard patio. The backyard patio allows for fun outdoor activities such as grilling during the summer months to relaxing around a fire pit in the winter.
According to Michelle Snyder of the American Society of Interior Designers, "It's kind of about creating a unified space between inside and outside--so that you can't tell so much where the one space ends and the other begins.
For this reason, ConcretePatio.org was created, to guide homeowners and provide them with the proper tools and knowledge to create a patio that is an extension of an already existing home. And using concrete is the start that will provide any patio with a firm foundation and an appealing, multi-use surface.
Once size, shape, and design have been determined, and the patio has been installed, it's time to accessorize. Under Patio Accessories, the site offers valuable resources for shopping for umbrellas, patio covers, furniture, barbeques and more.
ConcretePatio.org also brings together consumers and local concrete contractors by pointing to a nationwide contractor directory. Consumers can use the site to learn about concrete patios, choose photos of designs they like, and then access the directory for contact information for concrete patio contractors in their local area.
Photos courtesy of J & H Concrete.
###