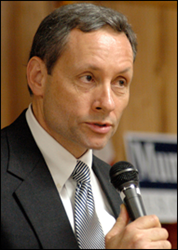 (PRWEB) October 08, 2008
Asheville, NC (Vocus) October 9, 2008 - The congressional campaign of a GOP candidate has captured national attention for his distinctive challenge to NC-11th Dist. incumbent Democrat, Heath Shuler (campaign caught the attention of Monday Night Football's huge audience). This high-energy contest between a principle driven conservative psychologist, Carl Mumpower and a football player is a classic David and Goliath struggle with about as many twists and turns as the original.
Note: Barack Obama's visit, this past weekend, to Asheville, North Carolina highlighted this mostly conservative but changing area of North Carolina.
__________________
The 11th District of North Carolina
A battle between a well funded former football player and a psychologist with some unique plays of his own.
Democrat, Heath Shuler has raised over 3 million from various PAC's - 98 percent of which comes from outside his District according to the June 30, 2008, FEC report.
Republican, Carl has refused to accept any PAC money, including that of his own party, and relying on individual contributions.
Mumpower won his primary after being outspent 5 to 1 by his nearest challenger. During that campaign he persistently voiced frustration with his Party's willingness to 'swap principles for power' challenging Republican betrayal of conservative values.
Mumpower took the unusual step of putting his campaign on hold for four days to unite fellow Republicans around a 'Principles First" campaign that has been rewarded with formal support from 12 of the 15 county party organizations in his district.
Shuler, a proponent of debates in the last election, against Charles Taylor, has avoided all debates with Mumpower.
Missing Man Debates -
Mumpower, using a life-size cutout of Shuler, is holding 'missing man' debate series with the absent incumbent. Debates will feature Shuler's 'quotes, notes, and votes' in response to spontaneous questions from the audience.
How you run sets the stage for how you serve-
There is little doubt that the road to a 21st century seat in Congress is paved with dollars - most of which come from lobbyists, PAC's, and political parties. In fact, in America today, it may not be possible for a non-incumbent to be elected without the obligations that come with stacks of greenbacks from special interests from faraway places. Those dollars buy media sound bites that, in turn, buy voter attention.
Mumpower - campaigns with an all-volunteer staff and a refusal to contract with political consultants. "I call it the 'Buy America Plan', and even though that plan purchases most seats in Congress, I will not play. We will win or lose by working hard and making sure the voter's have an honest picture of my position on the issues."
Mumpower's background is not typical for a Republican running for Congress.
A Vietnam Veteran and stalwart conservative, he has an educational background in social work and psychology. "I learned a great deal about people from both these professions," said Mumpower. "I also learned the limits of socialist welfare programs that encourage people to sit down instead of empowering them to stand up."
Mumpower resists all forms of government sponsored 'handouts'. He blasts the harms of hidden earmarks, which he calls 'the Federal government's community welfare program'.
He is against the bi-partisan bailout, which he defines as an exercise in 'corporate welfare', including the United Nations and foreign aid - they get lumped into Mumpower's category of 'international welfare'.
Mumpower on Bush - as a citizen he would support the impeachment of George Bush for his failure to uphold his oath of office and protect the Constitution of America.
Noting that he had no interest in jumping on the 'Bash Bush' bandwagon, Mumpower offered that the President's failure to protect our borders and enforce illegal immigration law warranted the accountability prescribed in the Constitution.
Mumpower - if elected, he will not accept the health care plan provided to members of Congress until that body responsibly addresses the health care coverage issue in America.
He will refuse the Congressional retirement and pay raise plans until Congress has addressed social security solvency and secured the economy.
Mumpower - voices no interest in committee appointments or traditional paths to power. "Committees spend more time obfuscating and agitating than acting," said Mumpower. "I would rather invest my energies working with other conservative voices than obligate myself to the power structure and pork barrel in Washington."
Mumpower - when questioned on how he plans to make a difference in Washington, he replied, "Just like I have in Asheville as a City Councilman. His willingness to take on the drug culture, fight illegal immigration locally, and offer a mature voice of reason have found the unabashed conservative receiving support from independents and Democrats in a city known throughout the south for its liberal leanings.
On the Media -
"The media has been fair to me," said Mumpower. "We have had more district coverage than any other Congressional candidate in memory, and I am grateful. We have earned that attention by offering a unique principle versus money campaign and taking a clear stand on the issues.
Taking a stand -
Mumpower will avoid all media advertising for the last 30 days of the campaign. "To this point we have actively used radio, TV, print, and billboards to let the voters know we are in this race for real," said Mumpower. "From here on out I will be doing a daily question-answer release on an issue of voter interest and continue our position statements on current events."
"If I lose, I will know I did my best and kept faith with a pledge to put principles first," said Mumpower. "If I win, I will go to Washington as an independent voice with no attachments to the 'Buy America Plan'."
Contact:
Michael Austin - 828-298-2830
Carl Mumpower - 828-252-5062
Capture images at: http://www.mumpower08.com/index.php?option=com_expose&Itemid=77
###