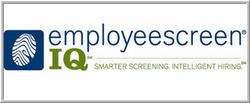 Plain and simple: HR professionals are looking for time and cost saving solutions that maximize efficiency and reduce risk in the workplace
Cleveland, Ohio (PRWEB) October 14, 2008
Cleveland, Ohio based employeescreenIQ (http://www.employeescreen.com), an industry leading global employment background screening provider, and Lima, Ohio based myStaffingPro (http://www.mystaffingpro.com), a leader in applicant tracking, have announced a strategic partnership. The alliance will allow hiring professionals using myStaffingPro's platform to utilize employeescreenIQ 's thorough, accurate and compliant background checks for employment applicants around the world.
"Plain and simple: HR professionals are looking for time and cost saving solutions that maximize efficiency and reduce risk in the workplace," said Nick Fishman, Chief Marketing Officer of employeescreenIQ. "This strategic alliance between two market leaders allows them to do so without sacrificing quality and compliance."
This pre-integrated solution will improve hiring and screening efficiency, reduce the need for duplicate data entry, minimize the opportunity for data entry error, and promote consistency in the hiring and screening process. The alliance between employeescreenIQ and myStaffingPro will ultimately help HR practitioners become more efficient in evaluating candidates and accelerate the hiring process.
Ruth Ann Stover Director of Sales commented, "The partnership will offer our customers the capability to submit the background request via an interface from myStaffingPro to their site. Part of the integration includes the capability to collect a true, legally defensible electronic signature from candidates. Once completed we will receive the real time feedback from employeescreenIQ with a portal link to review results. It's a win-win for our customers."
About employeescreenIQ:
employeescreenIQ is a global leader of employment screening services. Our smarter, comprehensive research techniques produce thorough, accurate screening reports that meet the unique needs of our clients and the standards of federal and international employment guidelines. employeescreenIQ allows our valued clients to be confident they are making intelligent hiring decisions.
About myStaffingPro:
myStaffingPro® is a web-based applicant tracking system with nearly ten years of experience. Clients of myStaffingPro® consistently give high ratings for flexible user functionality, unmatched prescreening, superior support, advanced reporting, and virtually "zero" down time. The system is available in four solutions to accommodate clients of any size or hiring process. myStaffingPro® is currently delivering the hiring process for over 400 clients and has processed over 12 million applications.
Contact Information:
Nick Fishman
employeescreenIQ
(800) 235-3954
nfishman@employeescreen.com
Julia Friemering
myStaffingPro
(800) 939-2462
juliaf@mystaffingpro.com
This press release was distributed through eMediawire by Human Resources Marketer (HR Marketer: http://www.HRmarketer.com) on behalf of the company listed above.
###