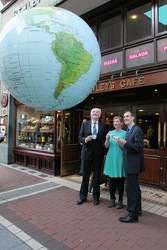 Dublin, Ireland (PRWEB) October 9, 2008
One of Europe's longest established coffee and tea firms Bewley's (estd. 1840) will become Ireland's first fully certified Carbon Neutral coffee company by year-end 2008, resulting from the implementation of a major environmental sustainability initiative. The development will see over 3,500 tonnes of CO2 removed from the atmosphere each year. Bewley's is the market leading importer, roaster and supplier of fresh ground coffees in Ireland.
The plan will be achieved through active carbon reduction initiatives, a move to renewable energy sources and support for high quality certified carbon offset projects. The Carbon Neutral status will apply to Bewley's coffee roasting, tea blending, foodservice and retail operations. It will also include the famous Bewley's Grafton Street Café which first opened in 1927 and is visited annually by over 1 million customers each year. Bewley's Café in Dublin serves high quality fairtrade coffees and teas and is also renowned for its priceless stained glass windows, created by the late artist Harry Clarke.
The announcement at Bewley's Café was attended by the Irish Minister for the Environment, Heritage & Local Government, Mr. John Gormley, T.D.
The move ties in closely with Bewley's wider sustainability initiatives where the company already recently became the first and only coffee roaster in Ireland to attain the international ISO 14001 environmental management standard - independently certified by the National Standards Authority of Ireland (NSAI). The company was also the first to import fairtrade-certified coffees into Ireland twelve years ago and is the largest supplier of fairtrade coffees to the Irish market.
Bewley's CarbonNeutral programme was developed in consultation with The CarbonNeutral Company (TCNC), the world leading business in climate consulting and carbon offsetting. TCNC's independent science advisors - the Edinburgh Centre for Carbon Management (ECCM) - measured Bewley's carbon footprint and have helped to develop carbon measurement systems across its organization. The foundations were then laid for a 15% overall reduction in CO2 outputs, which was achieved in 2007.
With a clear assessment of where carbon is currently being generated, Bewley's is now on target to achieve a further 20% reduction in CO2 emissions for 2008. The company is investing in renewable energy sources and heat recycling from its gas fired coffee roastery to heat its headquarters.
To reduce their carbon footprint to net zero, The CarbonNeutral Company has provided high quality carbon offsets to Bewley's - all of which meet international standards, and meet the CarbonNeutral® Protocol's requirement for guarantees and verification. Bewley's has chosen to support clean hydroelectric electricity generation in South America, among other projects.
The longer term reductions being targeted are the equivalent of removing the CO2 emissions of some 3,200 cars annually. The overall initiative is being led by a team headed by Síofra Campbell, Chairman of Campbell Bewley Group, who commented: "The relationship with The CarbonNeutral Company will be ongoing, to ensure that our plans take into account any updated standards and best practice. In addition, carbon emissions now comprise an integral part of quarterly reporting for each division."
"We are involving every one of our employees and business partners in this agenda. We have already reduced energy usage and will be moving to a renewable energy provider. We are implementing a new heat recycling system. In addition, a major recycling initiative is targeted at reducing waste and we are carrying out a feasibility study for organic waste composting from our Dublin roasting facility."
Sue Welland, Founder of The CarbonNeutral Company said, "Companies such as Bewley's are leading the way in actively tackling climate change by implementing a CSR strategy which combines internal reductions, for example - the new heating recycling system, and external reductions through carbon offsetting. This will ensure that Bewley's carbon footprint will be reduced to net zero. For Ireland to reach its Kyoto Protocol target to limit emissions to 63 million tonnes per year, more proactive action from companies is needed, as Bewley's has exemplified."
Bewley's said it will also involve its coffee producers in carbon reduction initiatives where this will actively support their economic viability, crop sustainability and overall coffee quality. A viability study is underway which will include support for solar power initiatives on a number of coffee farms where the mains electricity supply does not exist or is unreliable.
Notes to Editors.
Equation of emissions to equivalent numbers of cars is based on figures provided in "Estimates of Emissions for selected Items and Activities - ECCM Technical Document No 4", Edinburgh Centre for Carbon Management (ECCM), where an average two year old car, travelling 20,000 km per annum, is estimated to produce up to 1.08 tonnes of carbon per year.
The CarbonNeutral Company (http://www.carbonneutral.com) is the world's leading carbon offset and climate consulting business, working with over 300 major businesses and 60,000+ consumer clients. Over the last ten years, we have purchased carbon credits from almost 200 projects spread over six continents.
CarbonNeutral® is the registered trademark of The CarbonNeutral Company (TCNC) and is the leading brand mark and quality standard for action on climate change. Permission to display the CarbonNeutral mark is only given to clients of TCNC when CO2 emissions have been measured and reduced to net zero through a programme implemented in accordance with The CarbonNeutral Protocol. This Protocol assures quality of offset projects, carbon footprint assessments and communication and is regularly reviewed by an Independent Advisory Group.
The 'audit trail' includes an annual independent verification of CarbonNeutral programs - from contracts with carbon offset partners through to contracts with clients and everything in between. The Head Office is located in London with offices in New York and San Francisco, and a network of affiliates in Japan, Canada, France, UAE and Asia Pacific. The CarbonNeutral Company is a founding member of The International Carbon Reduction and Offset Alliance (ICROA), which provides leadership and a unified voice advocating for rigorous industry standards http://www.icroa.org.
###