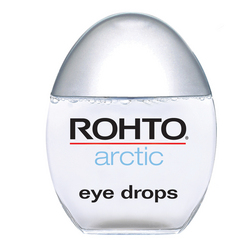 First line the eye with black liner
Orchard Park, NY (PRWEB) October 9, 2008
Now that summer's over, it's time to trade your pastel shadows and colored eye liner for warmer, darker colors, like gold, burgundy and navy, says celebrity makeup artist Gita Bass.
Bass, who has created some of the most eye-catching looks for celebrities like Minnie Driver, Heidi Klum and Keira Knightly, offers her insider insight on some of this season's must-have makeup looks:

Whiten up: If fall allergies have left you with bloodshot eyes, it's best to "whiten up" before applying make-up. "Dry, red eyes are never a good look, especially when your makeup is calling attention to your eyes," Bass says. "I like to use ROHTO eye drops to not only clear redness and moisturize, but they cool and refresh."
Colored, smoky eye: A great way to brighten up a smoky eye is to add some color. "First line the eye with black liner," Bass says. "Smudge the line with a colored shadow: try navy, burgundy, emerald green or shimmering bronze, and blend up into the crease with a soft brush. You don't want any definite lines, just a soft, smoky finish. Curl your lashes and finish with black mascara.
Gold rush: Rich gold and shimmering bronze look great on just about anyone, especially around the eyes. "Use a sheer wash of color, or create a strong, smoky look that sparkles," says Bass. "Apply a gold shimmer as a highlighter on the cheek and brow bone, and on the inner corners of the eye. Use the bronze close to the lash line and in the crease for definition. Layering gold over bronze creates dimension and is totally eye-catching. A gold or bronze lip gloss is beautiful on its own if you have darker skin, or layered over a brighter lipstick if you're paler.
Rock 'n roll sex kitten: This look is Brigette Bardot meets David Bowie. Strong, cool and really sexy! "Line the eyes with a thick black pencil and smudge with a brush or your fingers," says Bass. "Add a silver or slate cream shadow on the lid and a little under the eye. Make sure you don't smudge too much-especially under the eyes as it can look like dark circles. Your skin should look flawless and your eyes really bright. Apply a deep pink lipstick and then blot." It gives you that "kissed off" look.
ROHTO® eye drops are available in three formulations - Cool, Ice and Arctic - and are available for a suggested retail price of $6.99 for a 0.4-ounce bottle at most drug, mass and grocery outlets nationwide, as well as online at drugstore.com. For more information, visit http://www.cool4eyes.com.
###