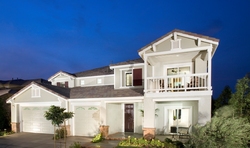 Our auction delivers what buyers are looking for, empowering them by giving them a voice in determining their own prices.
Newport Beach, CA (PRWEB) October 9, 2008
There are only two weeks left to bid on beautiful new homes in Parkside Village, a community in San Jacinto, California. The online auction, held by LFC Group of Companies on its residential real estate website FRE.com ends October 23, 2008.
Already, hundreds of interested buyers have visited Parkside Village to view the properties and hundreds more are expected in the weeks to come.
Amidst faltering financial markets and rising foreclosures, clever builders have turned to LFC's internet auction format to market their inventory, attracting buyers from communities across the nation. Prospective buyers are also looking to LFC, eager for the opportunity to own a new home--rather than a foreclosure -- at a price they decide.
The homes are incredibly spacious, ranging in size from +/- 2,462 square feet to over 3,800 square feet, with four or five bedrooms each. With minimum bids starting as low as $99,000 for properties valued between $385,000 and $549,000, these homes are well within most homebuyers' budgets. The preferred lender for the auction, PrimeLending®, owned by the 15th largest privately held bank in the nation, PlainsCapital Bank, is ready to prequalify prospective bidders and put buyers into new homes. It is reassuring during these tough economic times that there is a lender working hard to help buyers purchase the homes of their dreams.
Visitors who bring a friend or family member to Parkside Village this weekend, October 11 or 12, can take advantage of a special financing offer. See website for more details.
"There are so many foreclosures these days, but what people really want is a brand new home for a deal," notes Director of Operations Kelly Lovegrove. "Our auction delivers what buyers are looking for, empowering them by giving them a voice in determining their own prices."
Parkside Village is situated in the heart of budding San Jacinto. Residents will enjoy the shopping and entertainment, as well as the natural wonders surrounding the city. The San Gorgonio Mountains and Diamond Valley Lake present year round opportunities for outdoor activities, while the many nearby golf clubs provide access to sport and recreation. San Jacinto's close proximity to major California city centers like San Diego and Los Angeles make it an ideal city to make home.
Hurry and visit FRE.com/233R6 to learn more about the auction of these beautiful brand new properties in Southern California.
Freedom Realty Exchange - part of the LFC Group of Companies
For more than 30 years, the LFC Group of Companies has served numerous Fortune 500 companies, real estate developers, investors, financial institutions and government agencies by auction-marketing thousands of commercial, industrial, land and residential properties with an aggregate value well in excess of $5 billion. http://www.FRE.com
###