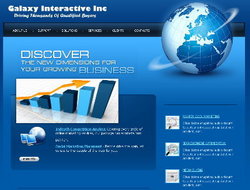 It's a known fact that gaining customers via the web is easier and cheaper than TV, Radio or Print
Coquitlam, B.C. (PRWEB) October 9, 2008
Galaxy Interactive, a fast growing marketing agency online, has introduced a new advertising service, the Galaxy Starter Package, to complement its search engine optimization (SEO) and PPC marketing (PPC) services.
The new Galaxy Starter Package is now available to the general public after several noteworthy and successful trials with various clients and companies during the past six months of a pilot project.
The Galaxy Starter Package is targeted towards website owners and businesses who have not yet fully capitalized on the internet. It instantly allows the owner to have a real time control panel tracking their online efforts. It shows them where each sale came from, how they found the website and more.
The package includes, email address collection and newsletter systems, basic search engine optimization, directory submissions, online classified ads, online bookmarks, a fully optimized press release, market research, strategic ongoing consultation on their business, sales and traffic strategies.
Daniel James, Vice president of Galaxy Interactive Inc said "An online presence has never been more important than it is today. People Google everything."
"During tough economic times," Says Dan "Businesses need to step up all marketing efforts that remain profitable. The big benefit of online marketing is that it's measurable. You see real time, what worked and what didn't. With brick and mortar marketing, you spend good money on a print ad and you never know if you'll get more business from it or not. With online marketing, you only spend money when a customer visits your website. That's huge!"
"It's a known fact that gaining customers via the web is easier and cheaper than TV, Radio or Print" Says Dan. "We utilize traditional marketing methods with all of our larger clients, and we've noticed we can always produce more revenue online.
What separates Galaxy Interactive's online marketing packages from the other search engine marketing businesses out there is their in-depth market research and analysis that goes on before the work starts. Basic competition analysis, market analysis and keyword analysis as well as general viability (ensuring there is a market for what's being sold) is fully considered before the optimization is performed.
Galaxy Interactive Inc has also been working on a new tool called The Competitive Intelligence Console, where business owners can see real time what their competitors are up to. Every time a competitor gains a new link, gets mentioned in a blog or on a forum, or in a press release. This tool will be launched to our existing clients and customers first, and then released to the web officially in the next coming weeks.
"We're doing some really exciting things here. I'm really excited to see how things progress in the next coming months." Says Dan.
For additional information on our starter package, our services or pricing, please visit our website at http://www.galaxyinteractive.net (or for a sample, copy or demo), contact Ryan Atkinson at 604-725-7464. You may also call us toll free at 1-877-633-2213.
###