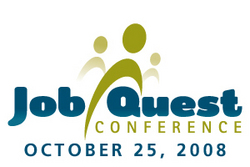 helping clients that are frustrated and disheartened in today's highly technical job search or in the throes of career transition to realize their professional goals and dreams
Eugene, OR (PRWEB) October 10, 2008
Columbia Coaching Inc. will host the 2008 JobQuest Conference scheduled for Saturday, October 25th, 2008. This webinar-based event will feature six nationally recognized career service professionals, each of whom will present hands-on strategies for conducting a successful job transition in today's tough job market.
"I'm extremely excited about the panel of six career experts we have for this event," said David Pierpoint, President of Columbia Coaching Inc. and host of the JobQuest Conference. "Both Kathy and Karen are recognized experts in the career services industry, and each is committed to providing our conference participants with the best strategies and practical advice they can offer."
"With growing competition in today's job market, this is an incredibly important time to learn the most effective career management strategies from the real experts -- especially if you are in the midst of a job transition," according to Pierpoint. "From Main Street to Wall Street, no one seems to be immune from the effects of the economic problems our county is currently experiencing. This event will be a great resource for helping people to take action and gain more control over their job search experience."
The JobQuest Conference will cover a wide range of topics, including: Career Planning, Personal Branding, Social Networking, Resumes & Cover Letters, Job Search Strategies, and Interview Preparation.
"The need for an event like this is widespread, and is why we decided to use an online webinar format," said Pierpoint. "We wanted to reach as many people as possible and not limit attendance to a specific location in one part of the country. We also wanted to eliminate all travel and lodging expenses that are typically associated with a local event, in order to save participants money and keep the registration cost as low as possible. As long as someone has a phone and an Internet connection, they can participate from the comfort of their home or office."
Conference participants can ask questions both prior to and during the moderated event, and each career expert will answer the most frequently asked questions as they apply to the topic for each hour-long segment. The entire event will also be recorded and provided to participants on a set of six audio CDs, so they can review the information after the conference has concluded. Registration for the event is limited to 300 participants, and conference organizers are offering ten scholarships to the conference. Scholarships will be based on need and other application criteria.
Participants can save $100 off the normal registration price if they register for the conference on or before October 17th, 2008.
"When going through a job transition, the biggest mistake someone can make is trying to go it alone," said Pierpoint. "This event gives people a chance to learn from the best of the best in the career services industry. It's like sitting down with an all-star team of professionals and having them share their secrets for what it takes to find the job you want in today's job market."
Kathy Condon is an Executive Coach certified in Performance Coaching, and travels the world inspiring others as an international speaker and trainer. A published author, she is driven by a distinct purpose to motivate others to achieve their full potential. Her popular Ezine "Weekly Wisdom" offers insights and thought-provoking comments about current events, business communication, and career issues. Kathy's book "It Doesn't Hurt to Ask: It's all about Communication" was released in March of this year. The book stresses the need for the use of simple tools to increase your ability to communicate more effectively with anyone.
Karen Silins is President and Owner of A+ Career & Resume, LLC. She is on the cutting edge of Career Coaching techniques and Resume Development trends, and committed to individual, personalized service, providing a realistic approach to the clients' goals through a variety of career coaching competencies or in career document preparation. Karen believes that the greatest reward she receives from her work is "helping clients that are frustrated and disheartened in today's highly technical job search or in the throes of career transition to realize their professional goals and dreams," and that "developing the client relationship, is all-important to garner the necessary information for a successful resume or coaching experience."
Complete details about the event, including registration information, can be found at the conference web site http://www.JobQuestConference.com.
# # #