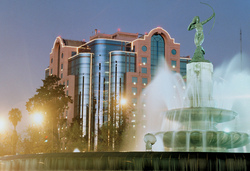 Mexico City (PRWEB) October 13, 2008
Experience exceptional pageantry and partying this December in Mexico City, where one of the world's largest populations of Catholics celebrate Christmas in the land of the fiesta.
In addition, superb shopping opportunities are on hand for original arts and crafts - a great deal when factoring the new refund of the 15% value added tax on purchases totaling up to 10,000 pesos (about $935).
Marquis Reforma wraps the city in a convenient Winter Holiday hotel deal that includes sightseeing of Mexico City's most elaborately-decorated neighborhoods via the double-decker Turibus, transportation to the Santa Fe shopping complex, spa treatments at Spa Marquis, deluxe accommodations and daily buffet breakfast.
The holiday hotel deal is offered from December 15th to January 6th starting at $170 per room, per night, double. For reservations or more information call 800-235-2387 or visit Marquis Reforma .
Holiday Hotel Deal Activities
Sight-seeing in Mexico City is made easy with Turibus, a double-decker bus reminiscent of buses in London, as it breezes by the historic center, Paseo de la Reforma, Chapultepec Park, and trendy neighborhoods such as Condesa, Roma and Polanco. Travelers can get on and off at any stop, as many times as they like during the day and they can listen to recorded commentary over a headset.
The Santa Fe Shopping Complex offers an exclusive selection of high quality shops, numerous fine dining restaurants, luxury department stores and even art dealerships prime for gift-giving.
After sightseeing and shopping, guests return to Spa Marquis to unwind in the steam rooms or enjoy a therapeutic massage or facial. Recommended therapies include the Pearl Spa Therapy (Coyolxauhqui), named after the Aztec Moon Goddess featuring aromatherapy, exfoliation, body wrap and massage using pearl-based marine products; and the Gold Spa Therapy (Tonatiuh), named after the Aztec Sun God featuring a facial, massage and body wrap using golden marine products.
Marquis Reforma
The boutique Marquis Reforma offers guests handsome surroundings in a post-modern, Art Deco influenced style. Most of the guest rooms are suites. A highlight of the boutique hotel is the luxurious 16,000 sq. ft spa, the largest in the region. The marble, colonnaded spa features 11 treatment rooms, Swiss shower, sauna, Jacuzzi, steam bath, indoor swimming pool and fully-equipped fitness center. The hotel's La Jolla restaurant is presided over by a chef honored at the illustrious Beard House in New York, and its new Los Canarios restaurant is already one of the City's top power lunch dining spots, where live canaries serenade guests. The lobby lounge offers a chic ambience for cocktails, conversation, and a lavish Sunday brunch.
On fashionable Paseo de la Reforma in the heart of Mexico City's cultural and financial district, the Marquis Reforma provides immediate access to the city's finest parks, museums and restaurants.
###