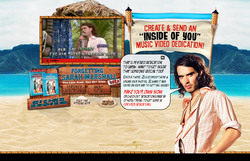 Creative Asylum was excited at the opportunity to partner with Universal Studios Home Entertainment to do something outside of the box in conjunction with such a funny romantic comedy
Hollywood, CA (Vocus) October 10, 2008
In conjunction with the DVD and Blu-ray Hi-Def release of "Forgetting Sarah Marshall" today, integrated marketing agency Creative Asylum has developed a viral video dedication website, allowing fans to create and send their very own "Inside of You" music video to someone special. Video dedications are customizable with photos, frames, and personalize messages including a music video from Aldous Snow (played by Russell Brand) to serenade any person the user would like to "get inside of." The personalized "Inside of You" dedication, can be accessed at http://www.fsminsideofyou.com.
From the producers of "The 40 Year Old Virgin" and "Knocked Up," "Forgetting Sarah Marshall" stars Jason Segel, Kristen Bell, Mila Kunis, and Russell Brand. Film critic Richard Roeper called the film "one of the funniest %@!# movies I've ever seen!" Released by Universal Studios Home Entertainment, "Forgetting Sarah Marshall" is available on DVD as a three-disc Unrated Collector's Edition DVD and a Blu-ray™ Hi-Def release. Both versions contain digital copies of the film which can be downloaded to a PC, Mac or iPod for convenient viewing.
"Creative Asylum was excited at the opportunity to partner with Universal Studios Home Entertainment to do something outside of the box in conjunction with such a funny romantic comedy," said Joey Caroni, VP of Digital Solutions. "We appreciate our client's willingness to try a fun and unique approach to promote their release, and we were happy to bring this video dedication tool to all the 'Forgetting Sarah Marshall' fans out there."
About Creative Asylum
Creative Asylum is an integrated marketing agency that delivers world-class, creative solutions to clients across a wide variety of media platforms including: interactive, editorial, print and outreach. Creative Asylum is a dedicated, passionate, creative team composed of editors, writers, producers, programmers, designers, brand strategists and motion graphics artists. Clients include: Universal Pictures, Paramount, Warner Bros., Disney and 20th Century Fox among others. For more information, please visit http://www.creativeasylum.com.
Media Contact
Joey Caroni
323.467.9600
joey@creativeasylum.com
###