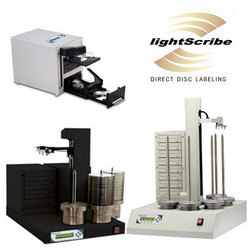 Los Angeles, CA (PRWEB) October 14, 2008
Vinpower Digital announced today the upcoming release of three new LightScribe capable duplicator series in October 2008. Keeping in step with the growing market trends towards labeling copied data on optical discs like CD's and DVD's, Vinpower Digital will upgrade their popular TITAN series as well as the new Cube autoloaders to include the standalone LightScribe printing application.
The TITAN LS duplicator line is a series of standalone robotic autoloaders ranging from 3 to 8 LightScribe capable drives offering a disc capacity of 100 up to 1000 discs depending on the model. The TITAN series has long been preferred in the duplication field for its reliability, lights out operation, Multi-Master Recognition Technology (aka batch mode) capability and user friendly interface. With a bevy of drives and large volume disc capacity, the TITAN series is perfect for companies requiring large throughput in a shorter time period. The industrial strength TITAN LS series maximizes output while minimizing effort and expense.
The Cube LS series is available with 1 or 2 LightScribe capable drives and 25 disc capacity in a small compact case. The Cube LS offers many of the options and benefits expected from the Vinpower Digital line of automated duplicators in a compact casing that is only dwarfed by its minute price tag. The Cube LS is extremely beneficial to those who need to duplicate and print small to medium quantities of CD or DVD discs in a short period of time without requiring the user to manually load and unload the discs.
"With the added costs to purchase a robotic publishing system or a separate printer, not to mention the escalating costs for consumables like replacement ink cartridges or thermal ribbons, adding the LightScribe capability to our autoloader line made perfect sense. It keeps costs down and offers excellent quality image or text labeling that rivals more traditional inkjet or thermal printing methods," proclaims Ryan Swerdloff, VP of Marketing and Sales for Vinpower Digital.
With the maturity of the SharkCopier LS standalone manual tower series of LightScribe capable duplicators, Vinpower Digital now has a complete line of manual and robotic equipment to choose from. With the rapid adoption of the LightScribe technology in the optical disc field, Vinpower Digital intends to continue the expansion of LightScribe duplication equipment to meet the needs of the growing market.
About Vinpower Digital:
Vinpower Digital is the leading manufacturer of standalone optical disc duplication equipment. With corporate offices in Los Angeles, California, USA and production facilities in Taipei, Taiwan, the company is delivering the most advanced and reliable standalone optical disc duplication controllers, manual towers, and robotic autoloaders anywhere in the world. As a true manufacturer, Vinpower Digital has the ability to OEM/ODM customized applications and equipment for qualified vendors on a number of levels. Never satisfied with good enough, Vinpower Digital constantly pushes the envelope to develop new features and enhance their existing product to stay in tune with the customers' needs and expectations.
For further information on any or all of Vinpower Digital's line of duplicators please visit the website at http://www.vinpowerdigital.com.
About LightScribe:
LightScribe Direct Disc Labeling offers consumers and businesses a simple, no-hassle way to burn professional-looking, silkscreen-quality labels on their CDs and DVDs. LightScribe extends optical media, recorders and software through an integrated system of media with special laser-sensitive coating, laser control and imaging drive modifications, and labeling software enhancements. LightScribe uses the same laser that burns data in the disc drive to create precise, iridescent labels. LightScribe technology was developed and patented by HP. A business unit of HP, LightScribe licenses its technology to optical industry leaders in drive and media manufacturing and to hardware, media and software brands. Additional information about LightScribe is available at http://www.lightscribe.com.
###