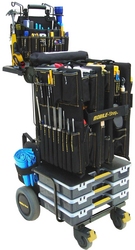 These days everyone is trying to accomplish more with the scarce resources available to them. Our system allows operators of virtually any type of facility to increase the capacity of their maintenance department 40% or more in many cases
Columbus, Ohio (PRWEB) October 10, 2008
The Mobile-Shop Company, LLC of Columbus, Ohio (http://www.mobile-shop.com) has announced the opening of a regional office in White Marsh, Md. which will serve the Mid-Atlantic region including Baltimore, Washington DC, and Philadelphia markets.
The Mobile-Shop Company is experiencing dramatic increases in demand for it's patented facility maintenance system and the location was selected because of its' proximity to several markets where the company has a concentration of existing clients and prospects. The company serves several industries involved in property maintenance including Multi-family, Hospitality, Government, Hospitals and Commercial/Office.
"These days everyone is trying to accomplish more with the scarce resources available to them. Our system allows operators of virtually any type of facility to increase the capacity of their maintenance department 40% or more in many cases," says Edward Guirlinger, President of Mobile-Shop. "It is up to our customers to choose how to take advantage of these efficiencies, whether it is via increased customer service levels, higher quality repairs and preventive maintenance, reduced staffing costs, or a combination of all of them. The Mobile-Shop System gives you the ability to properly equip your people and to control and protect the investment you have made over the long term."
The White Marsh office will be led by Chuck Lembach (301-407-3910) who is responsible for the city of Baltimore, Washington DC and areas south including Virginia. Brian Zernhelt (443-690-0880) will be responsible for Baltimore County and areas north including eastern Pennsylvania and southern New Jersey. The office is located at 7939 Honeygo Blvd., Suite 112, Building II, White Marsh, Md., 21236.
Contact:
Edward "Jerry" Guirlinger
President, CEO
Mobile-Shop Co.
5089 Westerville Rd.
Columbus, OH 43231
614-348-2517
edward@mobile-shop.com
###