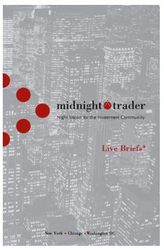 We have historically provided real time pre-market, regular session, and after hours stock and market news. Now we have further enhanced our full regular market session news to compliment our unique extended hours stock news service
Washington DC (PRWEB) October 10, 2008
MidnightTrader, a leading source of around the clock, real-time coverage of US equities and markets, announced that it has added even more features and critical investment information to its popular Live Briefs product. "Live Briefs" allow investors to stay informed with up-to-the-minute news and information that may affect their stock holdings -- as well as the economy on whole.
The additional features now available with Live Briefs include:

Historical insights that help investors use news (historical analyst rating change reactions and earnings reactions)
Additional ADR coverage
Dual listed Canadian coverage
Trading ideas
"We have historically provided real time pre-market, regular session, and after hours stock and market news. Now we have further enhanced our full regular market session news to compliment our unique extended hours stock news service," says Brooks McFeely, CEO of MidnightTrader.
Research has shown that over 90% of all market-moving corporate announcements are made in the after hours trading period. There are approximately 25 million online brokerage accounts that have access to after hours trading but only about 3% of these actually trade in after hours. The biggest reason given is lack of information.
Live Briefs are designed to keep investors informed about any and all market-moving announcements around the clock. With volatility increasing and average of 3 billion shares currently traded daily, real-time news has never been more critical for investors.
Trading ideas that have been profiled recently include:
Research in Motion (NASDAQ: RIMM)
Washington Mutual (NYSE: WM)
Google (NASDAQ: GOOG)
Apple (NASDAQ: AAPL)
Jabil Circuit (NASDAQ: JBL)
GE (NYC: GE)
JP Morgan (NYC: JPM)
Subscribers have access to trading ideas through the company's website at http://www.midnighttrader.com.
Midnight Trader's Live Briefs are packed with valuable information including:
Full extended trading day coverage in real time
Market Pulse reports on stocks experiencing heavy volume and sharp moves
Pre market and after hours trading ideas
Event forecast reports. Nightly analysis of after hours trading activity
Volume spikes and analyst rating change reaction history
Live headlines to see market-moving news
Real time earnings alerts and price reactions
Technical trading set-ups with entry and exit points
New dividend, analyst actions, M&A, trading halts and index change announcements
Live headlines -- read them as they happen
Trading ranges -- range data covering all actively trade issues
"Live Briefs are delivered from 6:30 a.m. to 8:30 p.m. EST in a brief, precise, easy to understand format that is not only fast and reliable but unbiased and accurate. Simple stock market news and pre market quotes are a great start but may not be enough for traders or their clients. Live Briefs deliver these and much, much more," says McFeely.
About MidnightTrader: MidnightTrader is a premier source of around the clock stock news and after hours trading information for retail and institutional investment community. MidnightTrader's Live Briefs provide real-time coverage of market moving corporate announcements, event reaction history, and global monetary and fiscal policy news. MidnightTrader's extended-hours news and full trading day analytical services empowers both retail and institutional equity traders by providing the information necessary to make the most informed and opportunistic investment decisions.
# # #