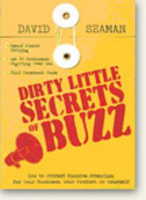 New York, NY (PRWEB) October 10, 2008
Fame is no longer just for the rich and, well, famous. If you have a YouTube account, a few hundred friends on MySpace, and the drive to make it happen, you can turn yourself into the next overnight media celebrity.
PR guru and social media expert David Seaman's new book, Dirty Little Secrets of Buzz, has already been featured in The New York Times and is now on shelves nationwide (U.S.) at Borders. The book is also stocked at Barnes & Noble, campus bookstores, and online at Amazon.com and BN.com.
In this bleak economy, it's more important than ever to become well known within your industry, city, and nationwide. Celebrity PR guru David Seaman's new book is now on shelves nationwide at Borders and Barnes & Noble. David's book shows readers how to get on CNN, CBS, FOX, major newspapers, high traffic blogs, and elsewhere.
Journalists interested in the 61 secrets of overnight fame should visit Seaman's web site at http://shutterline.com or contact Liz Kelsch, publicist, at liz.kelsch@sourcebooks.com.
# # #