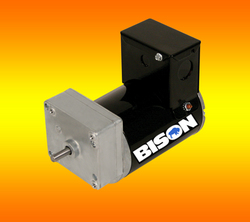 These Bison drop-in replacements for VW14 AC gearmotors feature permanent split capacitor four-pole motors that operate at half the speed of the competitive units they replace. With corresponding gear ratio changes, this results in a quieter, longer life gearmotor
St. Charles, IL (PRWEB) October 13, 2008
To support growing OEM interest in designing equipment for export markets, Bison Gear & Engineering Corp. introduces its new VWDIR14 AC parallel shaft gearmotors which are designed not only as Von Weise Drop-In Replacements, but also to be compatible with most globally available AC power sources. Utilizing 1/20 HP (37.3W) AC motors which can be conveniently operated from either 115V or 230V, 60Hz or 50Hz power sources, the new gearmotors are available in 6 standard, off-the-shelf models. With gear ratios from 10:1 to 494:1, they offer corresponding output speeds from 181 to 4 RPM, and continuous torque ratings up to 50 in-lbs (5.65 N-m). The totally enclosed non ventilated (TENV) permanent split capacitor (PSC) AC motors and integral gear reducers are reversible and feature all-position face mounting with a 50 pound (22.7 kg.) overhung load capability.
"These Bison drop-in replacements for VW14 AC gearmotors feature permanent split capacitor four-pole motors that operate at half the speed of the competitive units they replace. With corresponding gear ratio changes, this results in a quieter, longer life gearmotor," said Clayton Hinkle, Bison Gear Application Engineering Supervisor. "An engineered resin first-stage gear further contributes to quiet operation which makes these gearmotors ideal in such applications as foodservice equipment, automated displays, peristaltic pumps, business machines, ticket dispensers and even pellet stoves."
The new VWDIR14 AC parallel shaft gearmotors are available with
U.L. and CSA recognition as standard, and CE recognition can be provided for OEMs. In that regard, Bison Gear's Innopreneurial(TM) application and design engineering capabilities to customize standard models to meet specific OEM needs are readily available. Customers' shortened supply chain requirements are fulfilled by the units being manufactured in Bison Gear's St. Charles, Illinois facilities to the highest quality standards to ensure dependable, long-life operation.
The VWDIR14 AC gearmotors are one more addition to Bison Gear's rapidly expanding line of Von Weise Drop-In Replacement gearmotors, which is now made up of more than 80 standard models of AC and DC parallel shaft and right angle gearmotors.
About Bison Gear & Engineering Corp.
Founded in 1960, Bison Gear & Engineering Corp. designs and manufactures fractional horsepower electric motors, gearmotors and gear reducers used in industrial and commercial OEM applications worldwide. Bison's strong engineering tradition, based on Robusticity (TM) principles, offers products with up to twice as much torque in the same package size as competitors. Bison employs over 270 associates in its St. Charles, Illinois facility which produces gearmotors and reducers in parallel shaft and right angle configurations, as well as AC and DC electric motors, for applications where dependability and long lifetimes are important.
###