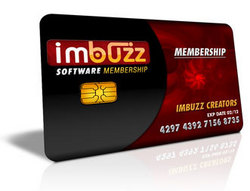 This software is a no-brainer for anyone looking to give their customers and prospects a viral, branded reminder of who they are.
(PRWEB) October 12, 2008
Possibly the most significant criteria for internet marketers that are selecting a market to tap into is the demand that it generates on a constant basis. Granted, there are other factors that play their own respective roles too, however demand is what is looked at first and foremost.
Were there to be a litmus test for demand, then the market for software would certainly pass it with flying colors. Not only are there people out there that are looking for various pieces of software, but the truth is that there are a lot of them. Of course, tapping into the software market is easier said than done, and will naturally require software in order to do so.
Locating or commissioning such software could be expensive. Fortunately, IM Buzz Software membership has stepped in with a solution: Free pieces of software that is completely rebrandable.
Naturally, the fact that it is free is bound to attract a lot of interest, as well it should. Instead of having to pay large sums of money to have software created for the purposes of marketing, it is essentially being handed over on a silver platter. What's more, combined with the revolutionary and viral nature of S-Buzz Marketing, it can be used to great effect.
Predominantly, such pieces of software are put to use either as 'perks' offered to customers for the purposes of list building, or as a method of establishing credibility. For any marketer, credibility is a key and crucial part of their business, as it ties their customers to them through a relationship formed on trust.
Marketing and selling the software itself is also an option, either as a standalone product or as a package of two or more of the products that the IM Buzz Software membership provides. Due to the fact that it was acquired for free, even selling each copy at a dollar will allow marketers to turn a profit.
By further adding advertisements within the software, any and all distribution of it, whether free or otherwise would mean that marketers stand to benefit regardless. In the words of one of the founders of the IM Buzz Software membership website, Calvin Woon, "We've witnessed how powerful this form of marketing can be, and we're extending the phenomenon that is set to shape how marketers set up their viral campaigns."
Most of Calvin's customers readily agree, and one Jay Douglas even exclaimed, "This software is a no-brainer for anyone looking to give their customers and prospects a viral, branded reminder of who they are."
Powerful, new, and potentially revolutionary, the fact that the IM Buzz Software membership costs absolutely nothing is a boon in itself. S-Buzz Marketing seems to exert its influence on the internet marketing scene in totality.
For further information regarding the IM Buzz Software membership website, visit http://www.IMBuzzSoftware.com
About IM Buzz LLP
"IM Buzz LLP is widely acknowledged as being one of the most innovative alliance in the Internet Marketing scene today. Its revolutionary approach to online marketing, referred to as 'S-Buzz Marketing' technique, has helped thousands of online entrepreneurs to grow their businesses on complete autopilot mode."
###