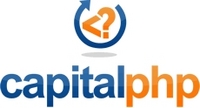 Austin, TX (PRWEB) October 13, 2008
Capital PHP, a PHP development service provider, is proud to announce the launch of its newly redesigned website, http://www.capitalphp.com.
"We needed a fresh, professional look that would help take Capital PHP to the next level," Capital PHP founder Mike Lucas said. "I believe we nailed it and are headed in the right direction."
The new Capital PHP website is not only more aesthetically pleasing than its predecessor, but it does a better job of highlighting the benefits of a professional US-based company over cheaper offshore developers. "The idea of $15/hr PHP programming is appealing to a lot of people," said Mr. Lucas, "but I have yet to find anyone who has been pleased with the results." Capital PHP promises to get things done quickly, accurately, and affordably, without sacrificing customer service and competence. Visitors can request a free quote by filling out a short form on their website.
For more information about Capital PHP, visit http://www.capitalphp.com.
About Capital PHP:
Capital PHP, based in Austin, Texas, is a leading provider of PHP consulting and development services to businesses of all sizes. Since being founded early in 2005, the company has been providing a fast and friendly service that keeps its clients coming back.
###