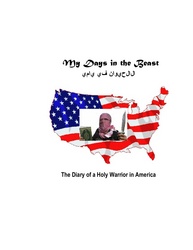 this is a timely and frightening view from inside the minds of those who attacked us in the past and, given the opportunity, will do so again
Lyndhurst, NJ (PRWEB) October 14, 2008
This uniquely presented book in the form of a diary covers a three-week period during which Aamir Al-Mamoura, a radical Islamic, was scouting potential targets in the US for a future attack. Each day's entry is in the original Arabic followed by the English translation.
Also included are photos and documents restored from Aamir's laptop by the FBI, after his capture. It appears he was keeping the diary in the event of capture or death so his family would know the part he played in the great Jihad against America.
The author J.C. Clark compiled and translated the diary after being personally involved in several 9/11 related incidents. Homeland Security and the FBI, having discovered or been informed of the book as a work in progress intervened, prior to publication, to insure that no classified information was obtained from government records or officials. The author's background, family, friends and neighbors were interviewed, research notes and draft manuscripts were copied and retained.
Given the conditions in the world today "this is a timely and frightening view from inside the minds of those who attacked us in the past and, given the opportunity, will do so again". You will gain a new perspective and appreciation of the constant vigil required to keep us safe as well as the determination and resources of those who would destroy our country and way of life.
At present the book and additional information regarding quantity discounts is available only at: http://www.MyDaysInTheBeast.com.
Full Contact Information:
Sam Corkin
MSPINCORP@Verizon.Net
###