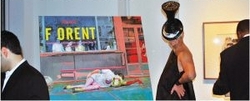 The Bitter (Sweet) End--tribute to Florent.
New York, New York (PRWEB) October 12, 2008
The Chelsea Art Museum, New York City, was alive with activity on October 6, 2008, with the silent and live auctions of products and services, the proceeds of which went to the Ali Forney Center, an organization that provides housing and services for homeless lesbian, gay, bisexual and transgender youth in New York City. Honorary Chairs Alan Cumming and Carson Kressley were among the supporters on hand, as well as a performance by Sandra Bernhard.
"No child should have to live and die on the streets," stated Olan Montgomery, a gay artist who donated several pieces of his brilliant and colorful art to the auction, including a $15,000 painting of the now-closed Florent Restaurant, located in the Meatpacking Section of Lower Manhattan, "The Bitter (Sweet) End--tribute to Florent."
Montgomery's painting is pictured with Gazelle, a performance artist depicted in the work. Olan also recently presented the Florent artwork, as well as other pieces, at the ArtExpo LasVegas show to wonderful reviews. His work can be found at http://www.vogelpop.com.
# # #