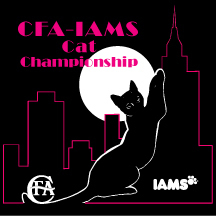 New York, NY (PRWEB) October 13, 2008
One of the most prestigious cat shows is returning to New York City's Madison Square Garden for the 6th Annual CFA-Iams Cat Championship on October 18-19. Hosted by The Cat Fancier's Association (CFA) -- the world's largest registry of pedigreed cats, and sponsored by Iams, an exciting line-up of activities is set for the 2008-2009 season.
The highly anticipated show will spotlight hundreds of show cats representing the 40 pedigreed breeds recognized by CFA. Among the breeds that are expected to be at Madison Square Garden are Japanese Bobtail, American Curl, Maine Coon, Egyptian Mau, Ragdoll, Cornish Rex, Sphynx, Siamese, and Persian. Some of the highlights of the two day event include:

Iams Trained Cats -- These fantastic felines, recognized for their appearances on popular TV shows and film will perform Olympic style feats -- these cats will be slam-dunking, strutting on a balance beam and kicking-off the show by lighting a torch!
Feline Agility Competition tournament -- A spectator favorite among past show attendees, this event challenges cats to navigate a series of tunnels and mazes in the fastest time possible.
Breed Showcase -- Joan Miller, one of CFA's leading feline authorities, showcases a presentation of the CFA breeds, sparkled with information on the beauty, personality, and history of the these cats, each represented by a specially-chosen feline delegate.
New York's Largest Feline Shopping Mall -- Lots of fun feline things for cats, and their doting owners, will be on display and available for purchase. Cat condos, 14K cat-themed jewelry, pet ID tags, interactive exercise toys, tastefully designed and colorful litter boxes and unique feeding bowls, art collectibles, grooming aids, cat carriers, cat trees, cat vitamins and feline supplements will be available for sale.
Ask the Vet -- Dr. Bernadine Cruz DVM. presents important information about keeping your cat healthy and answers your questions.
Adopt-A-Cat at the Garden -- The Mayor's Alliance of NYC Animals is hosting 16+ shelter and rescue organizations with dozens of cats and kittens seeking their new forever homes. This event has been directly responsible for more than 700 cats and kittens being placed with qualified adopters.
For more show information please visit http://www.cfa-Iams-cat-championship.org. Join the newest online network of cat enthusiasts on the Facebook group, "CFA-Iams Cat Championship Fans" to connect with other feline lovers.
About P&G Pet Care
For more than 60 years, Procter & Gamble Pet Care (NYSE:PG), the maker of Iams and Eukanuba, has enhanced the well-being of dogs and cats by providing world-class quality foods and pet-care products. To learn more about Eukanuba® and Iams® Dog & Cat Foods or general pet care and nutrition information, call the Iams Consumer Care Center at (800) 446-3075. You can also visit us on the Web at http://www.iams.com or http://www.eukanuba.com.
About the CFA
Founded in 1906 as a non-profit association of member clubs, The Cat fanciers' Association, Inc. (CFA) is the world's largest registry of pedigreed cats. CFA's mission is to preserve the uniqueness and beauty of the pedigreed breeds of cats, and to enhance the well being of ALL cats. CFA promotes education, responsible car ownership and proper care to the owners of millions of cats worldwide.
The CFA, headquartered in Manasquan, New Jersey, administers rules for the management of cat shows and promotes the interest of breeders and exhibitors of pedigreed cats. CFA and its affiliates work nationally with local shelters, at a grassroots level, to help improve the problem of stray cats and abuse, and to encourage neuter/spay programs. CFA has been instrumental in the development of several international charitable organizations such as CFA Disaster Relief, The Winn Feline Foundation and cat rescue and re-homing groups. For more information about the Cat Fancier's Association, the pedigreed breeds of cats, or to find the nearest CFA cat show, visit http://www.cfa.org.
###