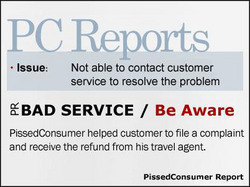 It's sometimes difficult for a reader to know when to take a consumer complaint seriously
New York, NY (Vocus) October 14, 2008
Consumer advocacy website, http://www.PissedConsumer.com, now gives visitors the ability to post photographs or other images with their consumer complaints. The new feature aims to give complaints more credibility, while giving more accurate information to others who may be facing similar customer service issues or who are considering doing business with a particular company.
"It's sometimes difficult for a reader to know when to take a consumer complaint seriously," says Joanna Simpson of PissedConsumer.com. "Sometimes it's a matter of a simple misunderstanding being blown out of proportion, and sometimes it's a case of filing a complaint before cooling down. They aren't always presented logically and factually, which can make them questionable when their real goal is to help others avoid the same problems. By enabling our users to now include photos with their consumer complaints, they're able to offer proof of things like damage or billing errors."
When adding consumer complaints with pictures to PissedConsumer.com, it's advised to follow a few basic guidelines to lend more credibility to a complaint, while also keeping private information safe.
1. If adding an image of a bill or other personal document, remember to remove or black out any full names, addresses, phone numbers, account numbers, or other personal details that shouldn't be public.
2. Dated photos may give more credibility to a claim than one that could have been taken at any time, so enable that functionality in the camera before taking photos.
3. While it won't always be possible, try to show both before and after pictures, especially when the consumer complaint involves damage. It's a good idea to have "before" pictures of any particularly valuable items on-hand before damage can occur (as an added bonus, taking photos now means you'll have a photo inventory should you ever need one for an insurance claim based on damages).
Responsible sharing of customer experiences is what PissedConsumer.com is all about. Consumer reports with pictures are another step in the right direction towards ensuring accuracy and better consumer protection.
About PissedConsumer.com
PissedConsumer.com is a premier consumer advocacy group, featuring consumer reviews and complaints in a social networking environment. The company uses online tools to publicize reviews and complaints filed by consumers on the Internet. In addition, the site offers a set of free tools necessary to bring the dispute to a fast and successful resolution, including a consumer complaint letter generator and collection of consumer tips and advice in the site's consumer advocacy section.
For more information about PissedConsumer.com or to see examples of photo reviews, please visit http://www.PissedConsumer.com or contact Joanna Clark-Simpson at 646-202-1809.
###