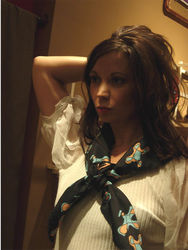 Washington, DC (Vocus) October 13, 2008
In this dreary economic climate, here is something cheerful to consider, bright colors. And Moojoo Ken has just released three new colorful silk scarves to brighten up the day. Scarf-tying can be a bit confusing, however, the following ideas are interesting, bold and yet easy enough for anyone to try.
The simplest way to tie a scarf is to flatten it out and wrap it around the neck, making a simple knot in the front. This style takes no fancy folding whatsoever, and will add some style and color immediately to any outfit. In fact, for a very low-cut top or dress, it can conceal cleavage as well!
Bad hair days! Here's a solution... A la Jackie O. Fold the scarf diagonally into a triangle, put the widest part along the forehead above the eyebrows, and fold the ends of the scarf under the hair. It works easiest if to start with a ponytail, tie the scarf under it, and then let the hair out of the ponytail. Throw on some gigantic dark sunglasses, ready to roll!
Tie it like a Tie. In keeping with an androgynous, "I Kissed a Girl" style, make a men's tie out of a scarf. Wear it with plaid, a vest, and some tailored pants for a menswear look.
Fold the scarf diagonally again, fold it a few more times to make it narrow, and then tie it around the waist. Voila, a belt! Try it around a sheath dress for some instant pop, or in place of a leather belt with trousers.
Finally, the piece de resistance. This is the most complicated way to fold a scarf, but it yields the most dramatic results. Fold the scarf like a fan in approximately 1.5 inch sections, starting on one edge and working your way to the other edge. Holding tightly to each end, tie it around the neck once, and let it go. Notice the burst of waves and folds, like a fireworks of scarf. It's best to keep the outfit simple in order to let the beauty of the scarf take center stage.
For more interesting ways to tie a scarf, visit http://moojooken.com/Scarves-How_To.pdf or stop by the store for a demonstration if wandering around 1512 U Street, NW, Washington, DC.
About Gillian Kirkpatrick:
Ms. Kirkpatrick has a B.A. in English and Studio Art as well as an M.A. in Fashion Merchandising from Polimoda University in Florence, Italy.
About Moojoo Ken:
Moojoo Ken means "unconditional" in Japanese, as the owners have drawn on their extensive travels to inspire their collection. The cozy boutique offers up a colorful, eclectic accessories line that features a childhood dream emblem. Washington, DC might not be known for its fashion, but Moojoo Ken wants to change that perception.
###