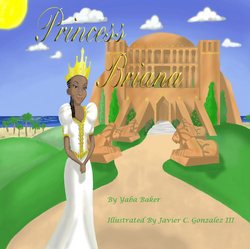 Washington, DC (PRWEB) October 15, 2008
Just Like Me, Inc. has signed a distribution deal that will for the first time distribute the Princess Briana book in the United States, Europe, and Canada. Princess Briana and all future books published by Just Like Me, Inc. will be available through these distribution channels worldwide:
Amazon.com, Amazon.co.uk, Amazon.ca
Baker & Taylor
Bertram's - major trade wholesaler in the UK (servicing over 1,000 booksellers) with links to major traders in Western Europe
Blackwell Book Services - international library supplier
Coutts - library supplier and retailer
Cypher Library Supplier - a leading supplier to UK public libraries
Dawson Library Supplier - supplier to academic, institutional and specialist libraries in the UK and mainland Europe
Gardner's - major trade wholesaler, servicing the major UK bookchains and internet shops as well as European booksellers
Holt Jackson - a leading library supplier
Ingram Book Company & Spring Arbor Distributors, Ingram
International (Chapters-indigo.ca)
The Princess Briana story has been lauded by parents, teachers, child psychologists and book reviewers for its ability to inspire as well as raise the self-esteem of girls and boys of all races. Book reviewer Tee C. Royal said this about Princess Briana, "Princess Briana is brilliantly written, creatively drawn, and the lush colors of the illustrator's palette bring out the beauty of the story. With the increasing number of television shows, commercials, and magazines teaching 'beauty' standards, books of this nature are a gem for the community. Princess Briana should be a resource used in homes, schools, libraries, and churches to assist in creating positive self-esteem amongst children, regardless of their ethnicity. It is a positive reinforcement that beauty comes from within and comes in all sizes, shapes, and colors."
When the author, Yaba Baker, was asked about the secret to the success of Princess Briana he said, "The Princess Briana character is as regal as a Snow White or a Sleeping Beauty while still being as normal as any girl or boy growing up around the world. Princess Briana experiences the same everyday insecurities as everyone else but finds a way to overcome them. Children who read the story are captivated by Princess Briana's wealth, castle, and lifestyle while still relating to her on the issues of low self-esteem and not fitting into the crowd."
L. Pendavis, a parent, explained how Princess Briana inspires boys too. "I bought Princess Briana for my 5 year-old son for Christmas. At first my husband asked me why I bought him a 'girls' book, but when we read the story to the boys that night, he was very impressed with the message. This is a wonderful, wonderful book for both boys and girls. I think as adults we don't realize the affect of the media (especially old fairytales) on our children's perception of beauty. Princess Briana is now one of my son's favorite books and he always talks about how beautiful she is. I can't thank you enough for this book and please keep up the good work."
In addition to the new international distribution deal, Just Like Me, Inc. is releasing the Princess Briana Royalty Pack to further build the Princess Briana brand. The Princess Briana Royalty Pack will include a princess dress (sizes range from 2T to youth XL), tiara, Princess Briana t-shirt, and a Princess Briana book. Initially, the Princess Briana Royalty Pack will only be available in the United States.
For additional information on the Princess Briana brand, visit http://www.princessbriana.com, or contact Danyel Hartfield.
About Just Like Me, Inc:
Just Like Me, Inc. is a children's entertainment company creating books, animated movies and branded merchandise.
Contact:
Danyel Hartfield, Media Relations
Just Like Me, Inc.
202-526-1725
http://www.princessbriana.com
###