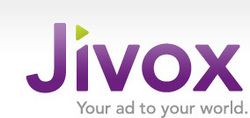 The appointment of someone of Jim's caliber to the Jivox management team speaks to the phenomenal success of our online video advertising platform among small and medium-sized businesses
San Mateo, CA (PRWEB) October 14, 2008
Jivox, the online video advertising service that helps small and medium-sized businesses reach local customers, today announced that it has added Internet industry veteran Jim Gustke, former Vice President of Marketing at Intuit, to the management team. Gustke will join Jivox as the Vice President of Marketing, directing the firm's global marketing initiatives aimed at building brand recognition and bringing Jivox's online video advertising service to even more small and medium-sized businesses.
A pioneer in Internet marketing, Gustke brings deep expertise in creating, managing, and optimizing strategic marketing initiatives to Jivox. Previously, he served as Vice President of Marketing for Quicken personal finance software at Intuit, where he led a change management process that rebuilt the Quicken marketing team from the ground up, and implemented a successful a new growth strategy for the company- that culminated in the launch of Quicken Online in January 2008.
"The appointment of someone of Jim's caliber to the Jivox management team speaks to the phenomenal success of our online video advertising platform among small and medium-sized businesses," said Diaz Nesamoney, founder and CEO of Jivox. "Jim is a marketing maverick with a keen vision for creating innovative, next-generation marketing campaigns that really connect with customers, and we're thrilled he has joined the Jivox team to advance our brand throughout the industry."
Prior to Intuit, Gustke was Vice President and General Manager for memory cards at Lexar Media, where he was responsible for business management, global branding and communications, and product marketing. During his five years at the company, Gustke helped drive revenue growth from $68 million to over $800 million, before the company was acquired by Micron. Gustke also served as a member of the founding executive team and Vice President of Marketing at Ofoto, establishing Ofoto as the leader in the new category of online photography, which led to it's acquisition by Eastman Kodak in 2001. Earlier in his career, he led a team that launched Polaroid.com, the company's first corporate web site in 1995. He joined America Online in 1996 as the Marketing Leader for Global Network Navigator, AOL's first Internet service provider.
"I've spent my career building new technology brands by making them accessible to mainstream people," said Gustke. "I'm very excited to be joining Jivox at a time where small business owners are discovering the power of Internet marketing and to have the opportunity to help them grow their businesses cost-effectively through high-impact online video advertising."
About Jivox:
Jivox helps small businesses reach customers with online video advertising. Jivox provides advertisers with an online, self-service tool to create high-impact video ads using stock footage, images, music or their existing video assets. Jivox ensures high-quality placement of customer ads through the Jivox Publisher Network, a locally focused network of premium publishers that includes hundreds of local TV and radio stations, newspapers, weather and other specialty websites, and offers geographic ad targeting at the city level as well as demographic and contextual targeting. Jivox is a privately held company based in San Mateo, Calif. For more information about Jivox, please visit http://www.jivox.com.
###