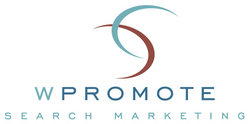 Eight Innovative Strategies to Turn Browsers into Buyers
El Segundo, CA (PRWEB) October 22, 2008
With over 3,000 attendees registered, more than 50 sessions and over 150 topics presented in a span of 3 days, Online Market World 2008 was a huge success. Founded in 2006, Online Market World is the premiere event for online sellers and marketers. The comprehensive conference program included Ecommerce topics ranging from IT and marketing to sales and operational issues. This year the conference was held at the Moscone West Convention Center in San Francisco and as one of the 1,300 companies represented there, Wpromote truly shined above the rest. With its stunning new booth and highly informative session, Wpromote was an impressive and noteworthy presence at this year's conference.
On Thursday morning, Wpromote headlined its own Super Session titled "Eight Innovative Strategies to Turn Browsers into Buyers". It drew such a huge crowd that people were forced to sit on the ground in order to take part. In the session, Wpromote shared invaluable insights on how to effectively integrate PPC, SEO and Landing Page initiatives in order to create the best possible user experience and in turn, boost sales without spending a dollar more. The two speakers, Michael Mothner, Founder & CEO, and Michael Stone, Vice President of Sales, also provided attendees with ground-breaking instructions on how to improve conversion rates through properly managed and developed search marketing efforts. Their goal was to give attendees information they could understand and turn around and implement quickly and successfully. In fact, Michael Mothner opened the session by saying that he "wanted to keep this session engaging and make sure that each and every person that attended left with take-away knowledge that they could immediately implement for their business."
In response to the session, many attendees commented that the online world can be extremely complicated but the information shared in this session by Wpromote helped them recognize what they have been doing wrong. Many had previously felt clueless about why traffic and conversions weren't what they wanted them to be, but they walked out of Wpromote's session knowing exactly how they can begin achieving the highest ROI ever possible. Several others who attended later came by the Wpromote booth to say that Wpromote's session was the "best they had heard" all weekend.
As one of the nation's leading Search Engine Marketing firms, Wpromote hopes to continue providing online marketers and sellers with innovative techniques, effective strategies and expert tips that will help them succeed in the world of online marketing. To find out where Wpromote is speaking next, please visit the Press Section on Wpromote's website.
About Wpromote:
Founded in 2001 by Michael Mothner, Wpromote provides search engine marketing services to thousands of clients worldwide. Wpromote specializes in expert PPC Management, Search Engine Optimization, and Landing Page Optimization, and has a unique, holistic approach to achieving online marketing goals through the synergy of expert human experience and Wpromote's innovative, proprietary technology.
More information on Wpromote can be found at http://www.wpromote.com or by calling the company at 1.866.977.6668.
###