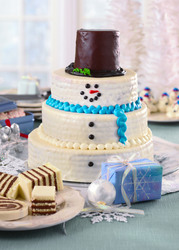 Monroe, Wisc. (PRWEB) October 14, 2008
Every year millions of Americans receive notice that the holiday season has arrived, but they don't hear it in the news or from their gossiping next-door neighbor. They get the news from a more traditional source: the arrival of The Swiss Colony's holiday catalog by mail, an American tradition that gets better--and bigger--each year thanks to The Swiss Colony's loyal customers.
The Swiss Colony's newest holiday delectables unite holiday traditions with unexpected surprises that are certain to create treasured memories. With over 50 years spent perfecting their seasonal treats in The Swiss Colony bakery, the new 2008 products include some of the most adventurous and scrumptious creations yet. Fans of Thanksgiving should gobble up the new Turkey Truffles, a playful addition to any Thanksgiving table. Towering over the table, The Swiss Colony's Snowman Cake--the largest cake ever sold by The Swiss Colony--serves up to 50 hungry guests. Unlike good old Frosty, it takes much more than snowballs and an old silk hat to bring the magical taste of this snowman to life--it takes more than 20 people to make each one!
Introducing the New 2008 Swiss Colony Holiday Product Line
Thanksgiving Products:
Turkey Truffles
Gobble gobble away--it's what these delectably rich truffles are meant for! And they're only too happy to oblige, with silky chocolate centers whipped to perfection, then coated with creamy milk chocolate. Each cheerful fellow is decorated by hand in sweet fall finery.
(.60 oz. each, gift of 12. $39.95)
Harvest Basket
Share fall's splendors in a bountiful "basket o' plenty": apple, carrot and banana breads; vanilla, honey and filbert crèmes; cinnamon apple and orange spice teas and foiled chocolates. Basket is 12 ½" x 7" x 5 1/2".
(1 lb. 1.5 oz., $34.95)
Sugar-Free Spiced Pumpkins
Dig into the texture-rich, delectable spice flavors of pumpkin, nutmeg and ginger. It's a harvest of sweet flavors without any added sugar to worry about. Your taste buds won't know the difference!
(.79 oz. each, gift of 12, $23.95)
Pumpkin Fudge
While it looks too good to eat, don't let that stop you! Dig into this creamy fudge and let its scrumptious harvest of spice flavors whisk you away to a blustery autumn day. Pumpkin, nutmeg and ginger make this treat indescribably delicious while whimsical hand decorations declare this pumpkin is ready to be picked.
(14 oz., $12.95)
Holiday/Christmas Products:
Lemon Star Bundt Cake
Enrich any dessert table with this divine, star-shaped cake. Refreshingly flavored with lemon oil and lemon crystals, it's covered in sweet Swiss crème and practically sparkles with delicate hand decoration.
(1 lb. 7.5 oz., $29.95)
Snowman Yule Log
Rolled up and ready to please, this cake alternates layers of moist white cake with chocolate butter crème. Its snowy coat is sweet Swiss crème with hand-iced touches. This scrumptious creation is truly magical--and it's the perfect addition to any holiday gathering.
(1.25 lbs., $19.95)
Snowman Cake
Handcrafted in The Swiss Colony bakery, this crowd-pleasing 7.5-pound cake is The Swiss Colony's largest cake, reaching a lofty 9.5 inches tall! It starts with moist white cake at all levels. The fluffiest chocolate butter crème filling is then layered in the first three levels and rolled in with a top hat cake. Its snowy outer coat is luscious Swiss crème, and the top hat is covered in Swiss-blend darker chocolate. Hand-applied icing adds the festive touches!
(7.5 lbs., $74.95)
Mini Butter Toffee
Careful what you wish for; these chocolate-covered nibbles of butter toffee with a crispy, almond-flake crunchiness are irresistible. They're the perfect size for lighter snacking--exquisitely delicious and positively habit-forming!
(1 lb. 1 oz., $19.95)
Raccoon Truffles
They're so cute you could gobble them up! And they're even more irresistible once you do. Silky chocolate centers are whipped to dreamy smoothness then coated in creamy milk chocolate. Each morsel's masked little mug is applied by hand to capture hearts near and far.
(.50 oz. each, gift of 15, $24.95)
Candy Bar Tortes
You can be sure most holiday tortes aren't going to have the delicious surprise these do! Moist, dark cakes feature layers of vanilla crème and candy bar crunch. Then they're covered in Swiss-blend chocolate and hand-drizzled with peanuts or icing.
(13 oz., $15.95)
Santa's Deer Trio
Seems three of Santa's nighttime helpers have stayed behind with a load of tasty friends: chocolate Santas and reindeer, a Swiss crème snowman, candy canes and foiled chocolates. It's ready to be gifted in a felt bag that stands 3" high.
(5.5 oz., $23.95)
Build Your Own Tower
Ready to be the smartest Santa this Christmas? Now you can custom design your own gift towers stacked and packed with everyone's personal favorites. Simply select any combination of three or six boxed goodies and send a personal gift tower to anyone you choose. They can be all the same item or a mix and match of the following options: baklava, petits fours, butter toffee, holiday cookies, caramel pecan clusters, mixed nuts, sausages, cheeses or gourmet brownies. Your loved ones will be grateful you sent their favorites, thanking you with every delighted bite.
(Gift of 3, $19.95; gift of 6, $34.50)
About The Swiss Colony
The Swiss Colony has been connecting families and loved ones since originating the tradition of sending food gifts by mail in 1926. With hundreds of festively packaged gifts ranging from cheeses, cheese spreads and specialty meats to chocolates, butter toffee and other decadent desserts, The Swiss Colony catalog makes it easy to share the holiday spirit at home or across the miles. For a Swiss Colony catalog or to order, call 800-804-5188 or visit The Swiss Colony
###