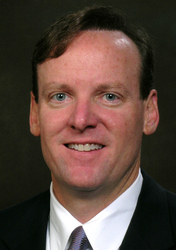 I am honored to join the AFT Board and look forward to engaging with fellow directors and association members in this new capacity
Brookfield, Wis. (PRWEB) October 14, 2008
BancIntelligence, a business unit of Fiserv, Inc. (NASDAQ: FISV), a leading provider of information technology services to the financial industry, announced today that the Association for Financial Technology (AFT) has elected Kevin Tweddle, a senior executive of BancIntelligence, to serve on its Board of Directors.
In addition to helping the association drive forth its mission to advance technology for the benefit of the financial services industry, Tweddle will play a lead role throughout his three-year term as part of the Program Committee, which is responsible for the content of AFT's biannual meetings. Tweddle will provide a unique perspective as a banking veteran and senior executive of a software company that delivers to bankers one of the first on-demand, analytical solutions. BancIntelligence combines in-depth financial and market information and expert analysis through an advanced delivery model to help institutions quantify their rationale for decisions that will drive profitability and franchise growth.
"We are delighted with Kevin's election to the Board," said James R. Bannister, executive director of the Association for Financial Technology. "We've relied on strong volunteer leadership to guide the organization since its beginning in 1972 and have been fortunate to have knowledgeable people step up when needed. Kevin brings a wealth of industry experience and expertise to AFT -- he will be a valuable asset in helping us create awareness and grow our membership."
BancIntelligence's online advisory solution helps institutions develop a complete picture of their strengths, weaknesses and opportunities for maximizing franchise value. More than 600 banks in all 50 states rely heavily upon the Company's BancAnalyst® Financial and BancAnalyst® Market Web-based tools for strategic planning, earnings enhancement, incentive compensation, budgeting resource allocation, branch rationalization decisions, target market programs, market expansion plans and other strategic applications.
"I am honored to join the AFT Board and look forward to engaging with fellow directors and association members in this new capacity," said Tweddle. "The value proposition for technology is never greater than in tough economic climates such as today's, and AFT is a vital organization contributing to the caliber of solutions brought to the financial services market each day."
About AFT:
AFT is a volunteer association of industry visionaries, thought leaders, strategic senior managers and delivery professionals from companies that serve the financial services vertical market. Since the 1960's AFT has been at the forefront of our evolving industry and represents the best interests of thousands of financial services technology and service professionals every day. From its humble beginnings in the mid-west as a regional group of core data processing vendors to today's vibrant international representation, AFT remains the collective voice of an industry. For more information visit http://www.aftweb.com or contact the association at 614.895.1208.
About BancIntelligence:
BancIntelligence, a business unit of Fiserv, Inc. (NASDAQ:FISV), delivers the industry's only online advisory solution to provide a key analytical advantage to financial institutions of all sizes. BancIntelligence has automated the analysis and strategy development process by uniquely combining comprehensive data, applied intelligence and access to its expert Bank Strategists. The BancIntelligence BancAnalyst® Financial and BancAnalyst® Market online tools continuously deliver instant, objective conclusions that support more than 600 financial institutions' strategic and tactical planning on their course to maximizing franchise value. For more information about BancIntelligence and its unique online advisory solution visit http://www.bancintelligence.com or contact us at 800.846.6681.
About Fiserv, Inc.:
Fiserv, Inc. (NASDAQ: FISV), a Fortune 500 company, provides information management and electronic commerce systems and services to the financial and insurance industries. Leading services include transaction processing, outsourcing, electronic bill payment and presentment, investment management solutions, business process outsourcing (BPO), software and systems solutions. Headquartered in Brookfield, Wis., the company is the leading provider of core processing solutions for U.S. banks, credit unions and thrifts. Fiserv was ranked the largest provider of information technology services to the financial services industry worldwide in the 2004, 2005 and 2006 FinTech 100 surveys. In 2007, the company completed the acquisition of CheckFree, a leading provider of electronic commerce services. Fiserv reported nearly $4 billion in total revenue from continuing operations for 2007. For more information, please visit http://www.fiserv.com.
For more information contact:
Tracey Frederickson
Critical3 Marketing
603-880-7413
ttfrederickson @ comcast.net
###