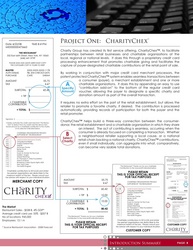 The [New York] state government…is dependent on Wall Street for one-fifth of its revenue.
New York, NY (PRWEB) October 15, 2008
While the front page of nearly every newspaper, the cover of many magazines, and featured entries in blogs all over the world have covered some aspect of the current economic crisis, one of the most critically-affected sectors is just beginning to be discussed. Not for profits and other charitable organizations are seeing a sharp increase in demand at precisely the same moment they are seeing their funding decrease.
As stated in a recent article in New York magazine, "The [New York] state government…is dependent on Wall Street for one-fifth of its revenue." A bit further in the article is the following statistic: "In June 2007 the big Wall Street banks paid $173 million in taxes; for 2008, the state [has taken] in only $5 million from them."
It's the epitome of a vicious cycle: Nationwide expectations include drastic service cuts at all levels of government. Funding for grants will also be cut or eliminated completely. This, in turn, will put even more pressure on charities to provide the services cut by the government entities. Many experts estimate that there will be nearly double the demand on non for profit agencies…but with half the budget. Add to the mix the fact that individual donors are not likely to be as generous in their support of charities because they themselves are directly affected by the situation - or are merely bracing for a very serious outlook - and it is easy to see the direness of the situation.
Virtually every charitable organization is going to feel the pinch as governments, from the federal all the way down to the smallest municipalities, must begin to slash budgets even further in the wake of decreasing tax revenues. At the same time, as more and more people lose their jobs, they will have even greater need for the services provided by these charitable agencies.
Terry Music, the Chief Mission Delivery Officer of the American Cancer Society, discussed this in a recent interview from her office at the Society's corporate offices in Atlanta. The organization is already feeling the effects of the economy as it struggles to deliver some of its most vital services.
"Right now we are seeing a significantly increased demand for help in providing transportation to and from treatment sessions, as well as in financial assistance," states Music. "Financial assistance includes everything from help with co-pays, to child care while the parent is in treatment, to needing help with a mortgage or utility payment because the patient cannot work due to illness.
"We get these requests all the time, and while we don't always meet financial needs with our own dollars, we have always utilized a very strong resource network [of other charitable organizations] that we can call to help people with these kinds of problems."
However, according to Music, in the last nine months there has been a huge decrease in the Society's ability to find these resources. "Either they are drying up, or the increased demand has simply depleted the funds of various churches, leading sadly to increasingly unmet needs for transportation and financial assistance."
Continues Music, "Historically, these have always been the most requested services we get. No matter how much we do we can never do enough, and we are always looking for solutions for those primary areas of request."
"This shows no sign of letting up," sighs Music.
Utilizing the adage "adversity breeds creativity," advocates of an emerging business model seek to change the way human beings help their neighbors. This model, prevalently known as philanthrocapitalism, combines the concepts and techniques utilized in both venture capital financing and business management, combining it with a dash of technology to achieve philanthropic goals.
Amir Dossal is a strong advocate for philanthrocapitalism on a global level. Dossal is Executive Director of the United Nations Office for Partnerships and the United Nations representative for public/private partnerships. He guides the development of strategic alliances with corporations, foundations and philanthropists in achieving the Millennium Development Goals (http://www.un.org/millenniumgoals/), which have a completion target of 2015.
According to Dossal, now is the time to think creatively on how everyone can make a difference: "We need to see this [financial crisis] as an opportunity to find new markets and new niches for corporations to invest in to help their bottom line. Rather than forgetting about giving, we need to think of these as opportunities to discover and cultivate new investment channels."
To meet the Millennium Goals, Dossal asserts, "We must remain very focused on education, environment and poverty issues. The recent price hikes for food are likely to lead to an extra 100 million below the poverty level. Today, 800 million people go hungry, and 300 million of these are children."
Dossal readily acknowledges the global impact of the budget crises that many nations, including the United States, will face, and that for the next few years, people will be "tightening their belts" all over the world. However, he firmly believes that the crisis provides a great opportunity to think creatively about funding: "Now that we have less revenue, we can increase it by the smart appropriation of funds."
Dossal is very pleased at the number of new philanthrocapitalists engaging with people at the local level all over the world. He calls this "smart philanthropy."
For example, the charitable arm of Google (http://www.google.org/) is investing in projects with an expected rate of return. For example, it is funding companies experimenting with solutions for renewable energy. According to Dossal: "At the end of the day, Google wants a rate of return so they can have a long-term solution, such as their recently-announced goal to have the world be energy dependent in three decades."
The main concept of philanthrocapitalism is based on making a profit: The more a funding source gets return, the more it can do.
Enter Scott O. Talbot, founder and Chairman of the Board of the Charity Group LLC, a firm created to provide innovative tools and platforms to help transform the way both not for profit organizations and corporate donors align and coordinate their fundraising efforts and objectives. The company's goal is to provide information and logistical resources that can increase the yield from fundraising activities, simplify event implementation, raise public awareness of nonprofit causes, and deliver more usable dollars for actual charitable deployment.
Talbot uses the term "social entrepreneurs" as another way of describing those involved in philanthrocapitalism. According to Talbot, it is very possible for social entrepreneurs to not only survive, but also thrive, even in a financial meltdown. "Social entrepreneurs are individuals with innovative solutions to society's most pressing social problems. They are ambitious and persistent, tackling major social issues and offering new ideas for wide-scale change."
"Just as entrepreneurs change the face of business, social entrepreneurs act as the change agents for society, seizing opportunities others miss and improving systems, inventing new approaches, and creating solutions to change society for the better. While a business entrepreneur might create entirely new industries, a social entrepreneur comes up with new solutions to social problems and then implements them on a global scale."
Scott O. Talbot describes philanthrocapitalism as using the capitalist concepts of competition, market dynamics, quantitative accountability, the ability to scale, and the imperative for growth, and applies them to social and charitable causes. He uses the following question in his advocacy for applying these concepts to save today's not for profits and other vital institutions dying from lack of funding: "If these methods work to quickly achieve wealth for private individuals, why not employ the same, proven-successful methods for the collective benefit of those who cannot access traditional capitalistic venues for their own benefit?"
Talbot's Charity Group hopes to transform the $295 billion not for profit industry with its mission of "refashioning stakeholder connections, strategically empowering donors, and creating innovative new showcases for both the not for profits and their supporters."
As a proud philanthrocapitalist firm in its own right, the organization also intends to build a dynamic and sustainable business in the process.
Charity Group created its first service offering, CharityChex™, to facilitate partnerships between retail businesses and charitable organizations at the local, regional, and national levels. It does this through a proprietary credit card processing enhancement that promotes charitable giving by facilitating the capture of payer-designated charitable contributions at the retail point of sale.
It is Talbot's plan that CharityChex™ will fill in the gap left by the loss of tax revenues and the resulting funding cuts by governmental agencies at a time when these funds are needed most by not for profits around the country and around the world.
Patricia Lynch is the owner of PLA Associates, a government relations firm based in New York. She is a strong advocate of the CharityChex™ product, so much so that she recently joined the Charity Group's Board of Directors. "The creation of CharityChex™ could not be more timely," states Lynch. "Many of us have never seen such a time of financial uncertainty. These times demand a different kind of giving to charity.
"We have to take a more creative approach of how we give back. As Americans, we have a strong desire to take care of our neighbors, and given the hard times that we are in the middle of, we need to create a system more convenient and easier than just having a huge gala one time a year. We need more of a year-round kind of solicitation or giving campaign."
Lynch concedes that much of the fundamental financial structure of New York (in particular) depended on the astronomical bonuses awarded to Wall Street employees:
"These are not going to exist for the next 18-24 months. The role of the charity world will expand, and has to take the place of what government used to supply but now will not be able to, due to decreased tax revenues themselves.
"In the coming years, Americans will need to have a different way of accessing to be able to better target their hard earned dollars into the charities that they choose."
The American Cancer Society is an organization that certainly could feel the positive effects of a strong philanthrocapitalistic society. States Terry Music, "I think that the Wall Street situation has had an impact on every local community across the country; we are certainly feeling the effects in every place across the United States."
Interestingly, the majority of the income of the Society comes from individual contributions. "CharityChex™ certainly fits the model and profile of the American Cancer Society," comments Music. "We are community based - the majority of our donors are under $100 - we don't take any money from the fed government.
"We certainly in the coming months and years will depend on these kinds of solutions to continue to be able to work with the over 1.3 million people who will be diagnosed with cancer this year alone. We want them to find their way to our doors and we want to have the means to help them when they do."
Contact: Scott O. Talbot
Charity Group, LLC
scotttalbot @ mac.com
###