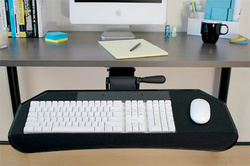 We've made it appealing and we've made it fun.
Portland, OR (PRWEB) October 15, 2008
KingTray.com, a keyboard tray retailer, goes live as the destination for the perfect practical gift for Dads, computer geeks and small-business owners. As consumers look to make smart choices this holiday season, The King Keyboard Tray meets the criteria for what makes a great practical gift.
Above all else, a practical gift is anything but trendy. It is useful now, as well as years from now and is made to last that long. It provides value long after the newness fades away. The King Keyboard Tray does exactly that. There are cheaper keyboard trays on the market, but they struggle to provide the value implicit with a high quality, durable and dependable product, such as The King.
People are spending more time at their computers than ever before and a gift that can make that experience better is a practical choice. The King is an ergonomic keyboard tray designed to improve the way humans interact with their computers. This can alleviate pain, prevent future injuries and help users feel more youthful at the end of the day.
"Most people don't think of keyboard trays when trying to come up with that perfect gift. They default to the gadget of the moment or a random tie when the holidays sneak up on them," said Brittany Reiff, COO of Ideademic, the parent company of KingTray.com. "We're suggesting that budget conscious shoppers go for the exceptional, practical products this year and we know The King Keyboard Tray is one of those."
KingTray.com was launched to fill the void in the market for adjustable keyboard trays of clear, descriptive, helpful information about a very important product. "We've taken a product that every single computer user can truly benefit from," says Reiff, "We've made it appealing and we've made it fun."
About KingTray.com:
KingTray.com is the home of The King: The Crown Jewel of Keyboard Trays. The website provides customers with vivid images, video of The King in action, ergonomics tips, and a pleasant, intuitive online shopping experience. In addition KingTray.com provides 365-day returns and a 5 year warranty. Ideademic LLC is the parent company of KingTray.com.
Contact:
Brittany Reiff, COO
Ideademic
Phone: 503.465.4449
brittany@ideademic.com
###