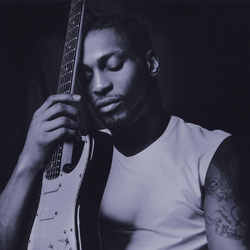 I Found My Smile Again (Remake)
Los Angeles, CA (PRWEB) October 15, 2008
R&B-soul singer-songwriter D'Angelo has been submitted for Grammy consideration in the category of "Best Male R&B Vocal Performance" for his new single "I Found My Smile Again (Remake)", which was released exclusively through iTunes on September 30. D'Angelo is no stranger to the Grammy Awards, having already won in the categories of "Best Male R&B Vocal Performance" and "Best R&B Album."
"I Found My Smile Again (Remake)" is a prelude to D'Angelo's next full-length album release which is slated for release this spring 2009 through the RCA Music Group and J Records. The song represents the evolution of D'Angelo's soul fusion and whets fan appetites for the singer-songwriter's heavily anticipated third album.
"We're very excited about D'Angelo's buzz single having been submitted for Grammy consideration, and we're as eager as the fans for the release of his new album early next year," says D'Angelo's manager, Lindsay Guion.
D'Angelo was one of the founding fathers of the R&B soul movement of the mid to late '90s, which took classic R&B fused it with new age hip-hop soul. D'Angelo's debut album, "Brown Sugar", earned him significant critical acclaim from the likes of Rolling Stone Magazine and put him in line with fellow contemporaries Me'Shell NdegéOcello, Joi, Omar and Dionne Farris. The album's double platinum success triggered extensive touring and soundtrack recordings for films like Space Jam, Get On The Bus, Down In The Delta, and Scream 2; and a duet with Erykah Badu for the "Marvin Is 60: A Tribute Album".
The singer-songwriter's follow-up, "Voodoo", debuted at number one on the Billboard Top 200, despite a five-year wait in between and positioned him firmly at the top of the R&B heap. Produced and written by D'Angelo and recorded live with no overdubs, "Voodoo" featured high profile collaborations with Raphael Saadiq, Lauryn Hill, Q-Tip, Method Man and Redman.
To learn more about D'Angelo visit Myspace.com/dangelo.
###