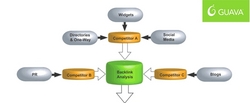 Cornwall (PRWEB) October 15, 2008
With one of the UK's largest dedicated link building teams already in place, Guava has further developed its linking department with the addition of multilingual linking strategists.
Guava's Business Development Manager, Ben Martin explains that the expansion was a direct result of client demand:
"We have always offered multilingual SEO and link building is an essential part of any campaign - so as our clients' projects have diversified so has our team. We now have multilingual experts in-house allowing us to manage worldwide projects on behalf of our clients."
With dedicated teams in the UK already in place for PPC, SEO, Social Media, Web Development, Linking Building and Project Management, the addition of multilingual team members further strengthens Guava's in-house expertise.
For further information please contact:
Lotte Mahon
Marketing Manager
Guava
08700 630707
lotte.mahon @ guava.com
http://www.guava.co.uk
###
About Guava
Guava is a fresh thinking, digital marketing agency specialising in Search Marketing and Web Development in the UK. Part of the pan-European Guava group with over 200 employees, the UK division is headed up by UK CEO, Graeme Radford with offices in Berkshire and Cornwall. Current Guava clients include Confused.com, Black & Decker and CNET.