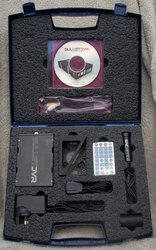 Montreal, QC (PRWEB) October 15, 2008
Bullet DVR™ has released a highly-innovative product geared towards motorsports. Now racers can capture audio and video from their cars, motorcycles and any other vehicles. This solid-state DVR has no moving parts and can withstand the roughest and toughest terrain. Recorded directly to a Compact Flash memory card, this product can make movies to share with family, friends and sponsors. A built-in lap timer allows racers to overlay their lap time information on screen, over the recorded video.
http://www.bulletdvr.com is the exclusive site to obtain this amazing new product. The main system components are:
*Recording unit
*Detachable camera lens
*Infra-red lap timer receiver
*Quick-release mounting bracket
This DVR (Digital Video Recorder) will record lap times and is an effective tool for the user to analyze their performance. Immediate playback using a PC computer will allow you to see errors and make the necessary adjustments, resulting in lower lap times. Professional and serious amateur racers are already incorporating this product to better their careers. Bullet DVR™ will refine your skills.
The Bullet DVR™ is extremely lightweight, resilient and easy to install. Mechanics can analyze the behavior patterns of certain vehicle components with an easy-to-use video reference. Complete with a registered version of TrackTimer™ software, (PC program for tracking every aspect of your race program) everything you want to log will be readily available on your computer. There's no need for pen and paper. The Bullet DVR's specs are impressive to say the least. It can record 30FPS in full D1 resolution at bitrates up to 8 MB/s.
The Bullet DVR™ is meant for everyone. From the amateur to the professional racer, this product is a visual tool, made to make you go faster. It's like an affordable, lightweight personal coach you can take with you everywhere. For detailed pictures, features and specs, visit http://www.bulletdvr.com
The Bullet DVR™ is a registered trademark, owned by Minicamera TV Enr. Minicamera TV Enr. has been doing business since 2003 and is located on the north shore of Montreal, Canada. Specializing in onboard video equipment for the motorsports industry, they build and supply equipment meant for racing.
Contact:
Christian Rose
sales @ bulletdvr.com
http://www.bulletdvr.com
1284 Des Seigneurs,
Postal Box 94086,
Terrebonne, QC,
J6W 5V4
Canada
Phone: 603-538-3318
###