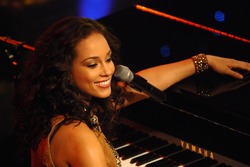 Nashville, Tenn. (PRWEB) October 15, 2008
Yamaha Corporate Artist Affairs, Inc. (YCAA) is proud to announce the contract renewal of one of the biggest contemporary female piano artists in the world - 11-time Grammy Award winner Alicia Keys. Alicia, who has sold more than 30 million albums worldwide, has been relying on Yamaha pianos since 2004, and Yamaha is thrilled to continue the relationship. The R&B songstress favors a range of Yamaha Silent grand pianos and the T121 upright piano.
"Alicia is one of the most highly recognized and influential artists of this era, so we couldn't be more pleased to continue this wonderful relationship," comments Chris Gero, vice president of Yamaha Corporate Artist Affairs, Inc. "It's always an honor to provide pianos for her. We've provided everything from polished ebony uprights to purple grand pianos. No matter the shade or style, it's always a joy to see and hear her play a Yamaha."
With no signs of slowing down for this singer/actor/philanthropist, Alicia has moved on to her latest exciting and history-making project: a duet with Jack White of the White Stripes. She and Jack have teamed up for the coveted James Bond theme song for the upcoming film Quantum of Solace, and YCAA was thrilled to provide Alicia with a custom painted piano for the video. YCAA provided a T121 polished ebony upright piano, which was painted white with gold trim.
The video for the single, titled "Another Way to Die," was filmed in Toronto, and the soundtrack will be released October 28. At the Toronto International Film Festival, Keys said, "(The song) feels very Bond, really brash and hard and super cool. It has a lot of valleys and peaks in it. That's what I love about it."
Producers of the upcoming Bond flick say White wrote and produced the new theme song and plays drums on it, while Keys joins him on the vocal tracks. This marks the first duet to be chosen as a Bond theme. Quantum of Solace, starring actor Daniel Craig as slick agent 007, lands in theaters November 7.
Keys can also be seen in the upcoming motion picture, The Secret Life of Bees, starring Queen Latifah, Dakota Fanning and Jennifer Hudson.
Since the 2001 debut of Songs In A Minor, the New York native has built an unparalleled repertoire of hits and accomplishments and clearly established herself as one of the best-selling artists of the decade. Songs In A Minor, which spawned her signature hit, "Fallin," sold more than 11 million copies worldwide and garnered five GRAMMY Awards including Best New Artist and Best R&B Album. Alicia's follow-up disc, 2004's The Diary of Alicia Keys, which is currently nine times platinum, captured four GRAMMY Awards and featured the hits, "If I Ain't Got You," "You Don't Know My Name," and "Karma."
With the 2005 release of Unplugged, which has sold 2 million copies, Keys became the first female R&B artist to have three consecutive No. 1 debuts on the Billboard 200 album chart in as many releases. Alicia's third studio album, As I Am, released four years after The Diary, confirmed her staying power, earning her two more GRAMMY Awards and setting records with the first single, "No One," which 10 hours after its release became one of the fastest moving and highest charting singles on Billboard's Hot R&B/Hip-Hop Songs chart.
Keys is currently on tour promoting As I Am. After wrapping in North America, Keys will tour Europe, New Zealand and Australia through December 20, where she'll continue playing an MPC2 grand piano provided by YCAA.
For more information on Yamaha artists or the extensive Yamaha product catalog, please visit http://www.yamaha.com.
###