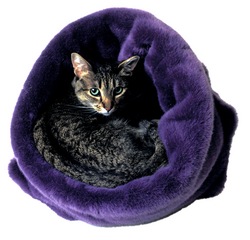 My cat Guinness needed a cozy napping spot after his surgery and I kept noticing his constant urge to climb in paper bags
Chicago, IL (PRWEB) October 15, 2008
Chicago designer Amanda Gentry today announced the launch of Buddhabag -- a moldable nap sack for cats and small dogs. The pet bed is designed with an animal's instincts in mind and inspired by the simplicity and curiosity of a paper bag. Tailored to every pet's desire to crawl in, on and under things, the Buddhabag is the first and only high-quality, moldable napping solution for cozy critters.
"My cat Guinness needed a cozy napping spot after his surgery and I kept noticing his constant urge to climb in paper bags," said Gentry. "I decided to create a comfortable version of Guinness' favorite place and the Buddhabag was born!"
Complete with a scalloped edge and cozy, moldable design, Guinness immediately took to his Buddhabag and the word spread in the pet industry. Soon owners of cats and small dogs from all over the country wanted a Buddhabag for their furry friends to crawl in, sleep on, nuzzle under, knead and chew. Latin pop diva, Thalia and her music executive husband Tommy Mottola own more than a dozen Buddhabags for their four Chihuahuas Ghosta, Blackie, Rata and Suzi Q.
Inspired by Guinness' Zen-like qualities of peace, love and self-relaxation, Gentry adorns each Buddhabag with a pet-themed Haiku called a buddHaiku. Pet owners are also encouraged to submit their own buddHaiku online for possible publication.
The Buddhabag has many uses including: Get in it! (Fold into bowl shape for crawl-in coziness), Get on it! (Flatten for the perfect paw-stretch position), Get under it! (Mold into cave for a napping hideaway) and Get creative! (Shape into a custom sleep sack tailored to your pet's napping desires). With its versatility and travel-friendly design, the Buddhabag is the perfect gift for pet lovers this holiday season.
The stylish Buddhabag is made from plush, high-quality, faux fur inside and out and is completely machine washable. The bag is durably constructed for heavy usage, wear and tear and is available in six vibrant colors including Ball (red), Catnip (green), Peanut Butter, Purr-ple, Snowshoe Tabby (white & gray stripes), & Spot (black). Buddhabags cost $58.00 plus shipping and can be ordered online at http://www.buddhabag.net/.
###