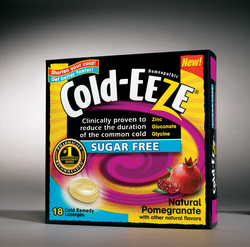 Zinc lozenges are not only great to use for colds, but should also be used when taking medications known to zap zinc, such as antacids and birth control pills
Doylestown, PA (PRWEB) October 15, 2008
With more than 100,000 medicines and supplements now available over-the-counter, it's often difficult to know which ones are the safest and most effective in helping to relieve a variety of ailments that affect us throughout the year, especially during cold and flu season. How do we ensure our medicine cabinet is stocked with the best products?
"The recent situation with a popular natural supplement found to be making false advertising claims about its effectiveness against colds has left many consumers wondering how to know which herbal products are truly effective," says Suzy Cohen, R.Ph. and author of the 24-Hour Pharmacist. "Add that to the many recent safety concerns of OTC cold medicines for children, and it's hard to know which products we should have in our medicine chest."
When navigating the pharmacy aisles, whether it's at your local chain drug store, supermarket or health food store, it's important to think "outside the pill" in order to create a natural medicine cabinet.
Here are Cohen's tips and recommendations for the must-have items to store in a natural medicine cabinet:
•Cold Medicine: For colds, think zinc. Cold-EEZE zinc gluconate lozenges, which are clinically-proven to reduce the duration and severity of cold symptoms by 42 percent (or three to four days), should be taken at the immediate onset of symptoms. "Zinc lozenges are not only great to use for colds, but should also be used when taking medications known to zap zinc, such as antacids and birth control pills," adds Cohen. "It's safer to relieve cough and cold symptoms naturally than to overmedicate with drugs."
•Cough Drops: A safer alternative for soothing sore throats, Organix Cough and Sore Throat Drops are the first medicated drops to be certified USDA Organic. Made from natural menthol and pectin, Organix can suppress coughs, cool nasal passages and soothe sore throats.
•Nasal Spray: Non-medicated saline nasal sprays are great for stuffed noses because they are not habit-forming or stimulating.
•Sleep Aids: Melatonin is a hormone that our brain produces naturally, which acts as our "master clock," helping us fall asleep and stay asleep all night. Melatonin supplements are great for insomniacs who might need some help getting shut-eye, because they won't cause a morning "hangover" or physical dependence like some sleep medications (OTC and Rx).
•Stomach Upset: Probiotics are a safe, natural way to keep your GI tract in good health and soothe an upset stomach. Probiotics are imperative if you take a conventional antibiotic because those drugs are drug muggers for intestinal flora (normal healthy bacteria are killed off by antibiotics, as well as the bad).
For more information on colds and boosting your immunity, visit http://www.coldfight360.com. To see if your city has made the weekly Cold-EEZE Cold-CAST, visit http://www.coldeeze.com.
NOTE TO MEDIA: For additional information, an interview with Suzy Cohen, or product samples, contact Christina Occhipinti at 914-241-0086, ext. 14, or at the e-mail listed.
# # #