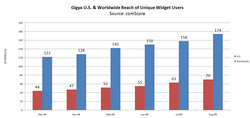 Palo Alto, CA (PRWEB) October 15, 2008
News Facts

Gigya, the largest widget distribution network and social sharing platform, reached more than 174 million unique widget viewers worldwide in August 2008 according to data released this month in comScore's August Widget Metrix Report.
In addition to ranking as the largest widget platform, Gigya is also the largest widget company in the world in terms of reach according to comScore. Gigya saw a 43 percent increase in worldwide, unique viewer reach since March 2008.
Within the United States, Gigya reached more than 70 million unique widget viewers, representing 37.2 percent of U.S. Internet users. This is a 59 percent increase since March 2008.
Gigya also released its own internal data for the month of August, showing that on average, 25 unique people viewed each installed widget. This means that these widgets are viewed and engaged with by a significant network of friends along with the original user.
Situation Analysis
This data from Gigya and comScore reflects a key trend that is reshaping the Internet: content is being consumed in locations other than the original source and instead within the places where users spend an increasing amount of time online, such as social networks, start pages and blogs.
The data also illustrates that the majority of widgets installed via Gigya's sharing platform are placed by users onto social platforms like social network profile pages, where the widgets then reach an average of 24 of each user's friends.
Gigya's technology and services achieved enormous traction with both advertisers and publishers due in large part to this significant network effect. The company's growth also reflects the desire of these two key customer groups to reach large and relevant audiences in a social context, using innovative technologies that together deliver user endorsement, word of mouth and a high level of engagement.
According to recent Forrester research, people online most trust their friends for consumer information. With 83 percent of people trusting a friend's opinion of a product or service, widgets, and their ability to reach friend networks as user-endorsed content, represent an important marketing opportunity.
Gigya Quote
"Internet users around the world have spoken -- the social and portable Web is here to stay and so is Gigya's position in this next generation of the industry. In these uncertain economic times it is Gigya's commitment to providing a performance-based advertising model, as well as to continuously evolving the innovative technologies and services that help our clients profitably grow their own businesses, that will continue to serve us well." -- Eyal Magen, CEO & Co-Founder of Gigya
About Gigya
Gigya gives people the power to socialize and share content across the Web, providing publishers and marketers with powerful tools for increasing audience reach and engagement online. Reaching more than 174 million people each month, Gigya's technology platform includes world-class sharing, analytics and monetization features. The company's products simplify access to more than 50 unique Web platforms, distributing content across the social Web and bringing users' social graphs to any site. Each day, millions of people use Gigya to engage with their friends and with content from Gigya's publisher and advertiser clients such as CNET, DoubleClick, Electronic Arts, Levis, MTV, RockYou!, Toyota, Unilever and Walmart.
# # #