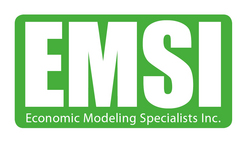 Moscow, ID (PRWEB) October 15, 2008
While the U.S. financial crisis has been making headlines in the past several weeks, fewer people are focusing on the weakness in the labor market. Many people may even be unaware that the economy has slowly been losing jobs since December of last year, and unemployment has risen from 4.9% in January to 6.1% in September, the highest level since 2003.
To respond, Economic Modeling Specialists, Inc. (EMSI) has developed a decision support procedure, based on a regional labor market analysis, to help communities respond to closures and layoffs. 
Rob Sentz, Marketing Director for EMSI comments on the work. "Well organized and integrated information on the local labor market, employment projections, occupational compatibilities, skills, college program information, and economic impacts provides rapid response teams and workforce professionals with the objective intelligence they need to craft the right strategy for their region. Our tools and consulting services allow these professionals to make very well informed decisions."
Now more than ever, workforce boards, economic developers and educators need to be equipped to respond to the needs of the local workforce and business community. It is in times like these that people think about going back to school to gain new skills, seek out new employment opportunities, and look for help from local and state agencies. This is already turning into increased demands on career centers, workforce development groups, and community colleges. 
"These important local organizations are on the frontline of workforce development. They not only help individuals find new employment, but also help create region-wide strategies to ensure a competitive and productive workforce for years to come. These same organizations, however, often do not have the capacity to gather the level of information needed to respond strategically in situations like this," says Rob Sentz.
With the right information, a major layoff doesn't have to be a disaster. Instead, it can be transformed into an opportunity to recruit new businesses and "up-skill" your region's workforce.
If your community is facing a layoff situation and needs help understanding how to approach the problem, contact EMSI to learn more.
EMSI's Experience
EMSI specializes in detailed information about regional economies for assessment and planning purposes, bringing together industry, workforce, and education perspectives. EMSI has the decision support tools and consulting services that have been successful in many regions across the U.S. 
Contact:
Rob Sentz
EMSI
208.883.3500
rob@economicmodeling.com
# # #