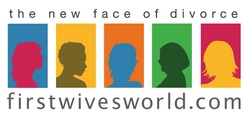 the legal termination of a marriage
New York, NY (PRWEB) October 15, 2008
firstwivesworld.com, the first online community devoted to women transitioning through divorce, is launching a major national promotion that seeks to "Redefine Divorce" from "the legal termination of a marriage" to what it has become today. Divorce is not a failure, but an experience, and one that is shared by 30 million people. Starting October 15, 2008 and running through November 4, firstwivesworld.com invites men and women alike to toss out old definitions and convention and submit their own take on the meaning of divorce. Winners have the chance to earn a $1,000, $500 or $100 gift certificate from SpaFinder.com.
Andrea Hein, Executive VP and Chief of Staff at First Wives World, notes that "firstwivesworld.com is dedicated to putting a new face on divorce and this promotion takes that to a new level by giving everyone a chance to help us 'Redefine Divorce.' For too long, 'Till Death Do Us Part' has defined how we look at marriage for generations. A marriage that lasts 50 years is a gift, but unfortunately, it is not the norm. Anything less has been viewed as a failure and that is not the message at firstwivesworld. We see divorce as an opportunity for reinvention and reflection. Our site and social network offer an embracing world of support, advice, inspiration and new ways to socialize to make that transition as painless and meaningful as possible."
The "Redefine Divorce" promotion was created by Allied Live, LLC, entertainment marketing specialists. Each entrant is asked to share their personal definition of what divorce means to them. All of the entries will be posted and the firstwivesworld community will vote on the winners. The three entrants with the highest number of votes will win a gift certificate from SpaFinder: $1000 (first prize), $500 (second prize) or $100 (third prize). Gift cards are redeemable for luxurious spa treatments, vacation experiences, spa products and more.
Since so many have been touched by divorce in so many ways, as a parent, as a child, as a friend, Hein notes that "This promotion is open to anyone who wants to participate; you don't need to be a member of the firstwivesworld.com social community. We are hoping to tap as many people as possible because our best resource has always been the experience, perspective and savvy of our users."
About firstwivesworld.com
First Wives World is a first-of-its-kind online social networking community where a new generation of women can connect, share and be inspired. No matter your age or stage of divorce, whether you're contemplating it, navigating it or moving beyond it, firstwivesworld is a place where you can interact with and support one another. The ever-evolving social website offers community, cutting-edge information, and relevant video programming. It is an all-encompassing destination for millions of divorced women, where they can effectively explore what the world has to offer them.
For additional information, please visit: http://www.firstwivesworld.com.
# # #