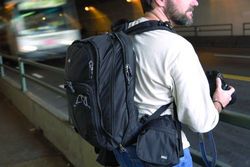 The inspiration behind the bag was a discussion I had with a London-based photojournalist
Santa Rosa, CA (PRWEB) October 17, 2008
In December, Think Tank Photo will release the Shape Shifter™, the first backpack designed to expand and contract to fit DSLR equipment. By contracting down to 3 inches, the backpack keeps photographers from having to carry around a large foam box on their backs once their equipment is removed. Think Tank Photo has set up a special Early Alert Page where photographers can register to be alerted when the backpack is available.
"The inspiration behind the bag was a discussion I had with a London-based photojournalist," said Think Tank Photo president and lead designer Doug Murdoch. "This pro photographer complained that his backpack was fine when full, but when he emptied it and strapped his gear to his belt, he was left with a big empty foam shell on his back that got in the way, especially in tight shooting quarters. The Shape Shifter was designed to increase mobility and functionality in the field."
The Shape Shifter was designed for photographers who:

Want a lightweight solution with significantly less foam and padding than traditional photo backpacks;
Travel a great deal by airplane and public transportation that want to carry the maximum amount of equipment in the smallest package possible;
Want to reduce the size of the backpack after their gear is removed. (Note: some gear can remain in the front, like two strobes, and it can still be compressed to the smaller size with the zipper);
Use modular belt systems. After they remove most of their gear and put it on their belt, they then can then collapse the backpack;
On the run that must travel with up to 17" laptops and have the necessary accessories with them to transmit images.
Product Features

The Shape Shifter can be compressed to 3 inches in width once equipment is removed.
Once the majority of photo gear is removed, the bag can be collapsed and the photographer can still carry up to a 17" laptop and accessories, but in a much smaller package.
Rear compartment for up to 17" laptops has medium padding for protection and comfort.
Photographers can to wear their belt system, with components attached, and still support the weight of the backpack with the belt.
The inside compartment has neoprene pouches for:
o 2 Pro DSLR bodies
o 1 70-200 2.8 with hood reversed
o 1 24-70 2.8 or similar with hood reversed
o 1 16-35 2.8 or similar with hood reversed
o Stretch pockets on the inside can also hold two strobes and other accessories

Includes a strap system to mount either a monopod or tripod on the front the backpack.
Padding on the back has an airflow system for breathability and comfort.
Technical Specifications

Outer Dimensions when COLLAPSED: 20 x 12.5 x 3" ( 51 x 32 x 8 cm)
Outer Dimensions when EXPANDED: 20 x 12.5 x 7" ( 51 x 32 x 18 cm)
Inner Dimensions of the LAPTOP CASE compartment: 19 x 12 x 1.5" (48 x 30.5 x 4 cm)
Inner Dimensions of the DSLR Camera compartment (Note that because there are neoprene pockets to hold the photo gear, the normal internal dimensions stated have less meaning): 19.5 x 12 x 4" (49.5 x 30.5 x 10 cm)
Estimated Base Weight (without any straps or accessories attached: 3 lbs, 13 oz (1729 grams)
###