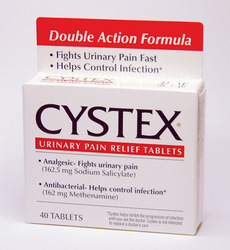 The decrease in estrogen causes the bladder to become less elastic, triggering an inability to empty the bladder completely
Edison, NJ (PRWEB) October 16, 2008
Menopause affects every woman and is usually associated with hot flashes, irritability, and difficulty sleeping. However, a lesser known symptom of menopause is the urinary tract infection (UTI) due to a lack of estrogen.
"The decrease in estrogen causes the bladder to become less elastic, triggering an inability to empty the bladder completely," says Larrian Gillespie, retired urologist and author of the popular book, You Don't Have to Live with Cystitis (HarperCollins). "Ultimately, this creates a breeding ground for bacteria to multiply.
Generally, urine is very acidic, which helps kill excess bacteria. However, after menopause the lining of the bladder which prevents bacteria from adhering become permeable, allowing bacteria to thrive. Additionally, the amount of protective vaginal organisms, lactobacilli, which help prevent harmful bacteria from adhering to vaginal tissue and the urethra, decreases.
Urinary tract infections are common in menopausal women, so it is important to control or prevent the recurrence of UTIs. Gillespie recommends these ways to control or prevent the recurrence of UTIs associated with menopause:
•Stay Hydrated: It is imperative to stay hydrated by drinking plenty of water which promotes regular urination. This flushes out bacteria from the urinary tract.
•Respond to "nature's call": Urinate as soon as you feel the need to in order to eliminate unwanted bacteria. While "holding it is" does not directly cause an infection, it can cause overdistension that can damage the lining of the bladder, making it more vulnerable to bacteria.
•Watch your back: Protect your back since lower back stress that affects the lower muscles of the back can interfere with the flow of urine, which can lead to abnormal voiding (urination) and UTIs. When exercising, try to maintain good form while lifting weights or on exercise machines to avoid back injury. If you suspect a back problem may be contributing to your UTIs, ask your doctor to give you an "uroflow" exam to assess whether or not you are voiding efficiently.
•Strengthen your core: Often, a lazy bladder (unable to empty urine properly) occurs due to lower back problem, so consider doing exercises to help strengthen your back and stomach muscles. Ask your physician or fitness trainer about which exercises are beneficial to your abs and back.
•Take a vitamin C supplement: Take about 1,000 milligrams of vitamin C throughout the day to help inhibit the growth of some bacteria by making sure you have an acid urine.

Lubricate: As estrogen declines, vaginal dryness increases. Make sure to be properly lubricated during sexual activity (use a water-based vaginal lubricant) to decrease friction in the vagina/urethral areas.
•Take an antibacterial: If you are menopausal and prone to UTIs, Gillespie recommends taking Cystex® as a preventative, as it is the only over-the-counter urinary tract medication that contains methenamine, an antibacterial agent that attacks bacteria and helps prevent it from adhering to the cell wall lining of the bladder, as well as a pain reliever. Cystex® can be taken before activities or situations that you believe have contributed to urinary tract infections, such as sexual intercourse. If you develop a UTI, taking Cystex® until you see your doctor will help keep the infection from progressing and also help with the pain.
To learn more about urinary tract infections, visit http://www.cystex.com.
###