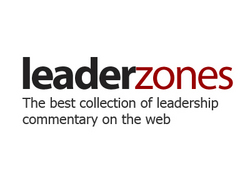 Novato, CA (PRWEB) October 16, 2008
As worldwide economies struggle with recession and economic uncertainty, leaders are looking for new insights on how to take advantage of the situation to grow their businesses.
Leaders seeking advice and best practices gain a strategic edge today as LeaderZones.com (LeaderZones) launches with over 5,000 articles on leadership and effective people management. Leaders and other change agents can now consider the latest leadership best practices from experts, authors and analysts faster and easier than ever before.
LeaderZones content is updated every business day by editors who filter and organize the best articles, news, commentary, blogs, events, audio, and video on leadership and employee management into Zones (categories) and Challenges (sub-categories) so visitors can quickly identify the content that most interests them.
LeaderZones founder David Russell explained why during economic upheaval LeaderZones is more important than ever. "The companies that emerge stronger from this economic crisis will be those organizations that focus on retaining and fully engaging their top-performing employees. For this reason, a growing number of leaders are making LeaderZones the home page of their browser. Each day they want to consider the latest advice on how to lead their companies out of this economic crisis and transform this downturn into an opportunity for long-term growth."
About LeaderZones, Inc.:
LeaderZones, Inc. was founded in 2008 by David Russell, CEO and author of Success With People. LeaderZones editors work every business day so that leaders quickly find the advice and insights of experts, authors and analysts representing a wide variety of management disciplines.
Media Contact:
Tom Harris
tom @ leaderzones.com
(415) 524-8313.
This press release was distributed through eMediawire by Human Resources Marketer (HR Marketer: http://www.HRmarketer.com) on behalf of the company listed above.
###