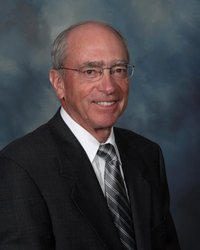 Even though I already have three designations from The American College, I believe it's important to maintain a competitive advantage through lifelong learning
Bryn Mawr, Pa. (PRWEB) October 16, 2008
A well known Kansas City financial and insurance services professional, Charles C. Jones, CLU®, ChFC®, CASL®, will be inducted into The American College's Alumni Hall of Fame in an award ceremony at The College's Knowledge Summit on Thursday, November 20, 2008. Jones is the Owner and Chief Executive Officer of Pentrust, LLC, a provider of business, estate and financial services with offices in Kansas City, Missouri. Pentrust LLC represents major national insurance companies and is part of the Pentrust group of companies doing business as Pentrust Wealth Management.
The Alumni Hall of Fame is intended to recognize graduates of The College's designation or degree programs who have made extraordinary contributions in time, effort and energy to this remarkable institution of higher learning. Individuals must be long-term volunteers of The College and active participants in The College's community and learning environment. Only three other individuals have ever been inducted into The American College Alumni Hall of Fame.
The selection of the Alumni Hall of Fame recipient is based on the recommendations of review committee comprised of past Hall of Fame inductees and the President of The American College Alumni Association. Being nominated previously did not exclude individuals from consideration in 2008.
"While some of the best and the brightest individuals in financial services are nominated for induction into the Hall of Fame each year, Chuck's nomination was a clear standout." said Larry Barton, Ph.D., President and Chief Executive Officer, The American College. "He has served The College as a member of the Board of Trustees and the Foundation Board of Directors. Significantly, Chuck chaired our Investment Committee and helped to create a secure financial future for this institution."
"Even though I already have three designations from The American College, I believe it's important to maintain a competitive advantage through lifelong learning," said Jones. "That's why I'll be attending Residency I of The College's Master of Science in Financial Services (MSFS) degree program during the Knowledge Summit in Hawaii this year. More knowledge creates more effective stewardship and allows me to better help my clients achieve financial security and their personal goals."
Induction into The American College Alumni Hall of Fame is a significant achievement for Jones in an already remarkable career marked by accomplishment and distinction.
Born in the mountains of rural Pennsylvania, Jones graduated from Bedford High School in Bedford, Pa., in 1957. As a young man, his active participation in sports and music led to scholarships at the Pennsylvania Military College. In 1961, he graduated with a Bachelor of Science in Business Administration. Today this college is known as Widener University.
Upon graduation in 1961, Jones completed the Infantry Officers Orientation Course in Ft. Benning, Georgia. He then attended the Army Intelligence School in Fort Holabird, Maryland. As a Special Agent, Jones became the youngest member of the 5th Infantry Division's headquarters' staff serving a dual assignment which included the Division G-2 Staff , Counter-Intelligence officer. In 1969, he completed his reserve military requirement with service in the Ohio and Kansas Air National Guard, and was discharged with the rank of Captain.
In 1966, Jones moved to the Kansas City area in order to join the Connecticut General Life Insurance Company, a predecessor to CIGNA, as part of the brokerage office managed by J. Robert McKenzie. Three years later, he was the Regional Manager for life and mutual fund sales for the Commercial Union Companies. When the Business Men's Assurance Company created their brokerage division in 1970, Jones joined this organization as their Field Director, Brokerage. He was responsible for creating the most productive agency within that organization.
Jones next career advancement took place in 1976 when he became a Personal Producing General Agent, purchasing the agency from Business Men's Insurance Company. For the next 14 years, he represented various companies as he offered comprehensive financial services to his clients.
When John Hancock consolidated their Kansas City office in 1990, Jones was requested to join the new facility. This opportunity allowed him to more fully excel in the financial services industry.
Today, Jones, as the founder of the Pentrust Group of Companies, works with his family.
Christopher A. Jones, MBA, JD, LLM, his son and partner for 16 years, operates the day-to-day activity of Pentrust Wealth Management, LC., and serves as the Registered Principal of Pentrust Advisors, a Registered Investment Advisory firm. Their practice specializes in assisting clients in need of detailed estate and business planning services.
Jones holds a series of advanced designations from The American College. He became a Chartered Life Underwriter® (CLU®) in 1972 and earned an advanced pension planning certification from The College in 1975. Jones earned his Chartered Financial Consultant® (ChFC®) credential in 2000. In 2005, he earned The College's Chartered Advisor for Senior Living® (CASL®) designation. He is currently enrolled in the institution's prestigious Master of Science in Financial Services (MSFS) degree program.
Induction into The American College Alumni Hall of Fame is one of many well-deserved accolades earned by Jones over the course of his distinguished career. Other honors include:

Man of the Year & Agency of the Year for Commercial Union
Induction into Integrated Resources Hall of Fame
Membership in All American Life's President's Club. John Hancock's Marketing Representative of the Year (1994)
John Hancock Life Sales Leader: (1996,1998)
Listings in a variety of Who's Who publications.
Jones has also taken an active leadership interest in a variety of professional associations. He is currently a member of the Society of Financial Service Professionals, National Association of Financial & Insurance Professionals & The Johnson County Estate Planning Council. Past experience included active involvement in the Chamber of Commerce and Rotary International. He has achieved Top of the Table status with the Million Dollar Round Table, (MDRT). Jones is also an active participant in local Kansas City Charitable organizations. He is a Director of Asbury Park retirement community, Financial Advisor to Christo Rey Schools a College Prep School for disadvantaged children, and active within the Methodist church, Eastern Conference of Kansas.
Jones has been married to his wife Pat, for over 48 years. She was an integral member of the Pentrust team for many years. They also have two daughters and six grandchildren.
For more information on attending the Alumni Hall of Fame Induction Luncheon, please contact Adam Batchelor at 610-526-1477 or Adam.Batchelor@TheAmericanCollege.edu
The American College is dedicated to leadership in innovative training and development that helps financial services companies and their employees succeed. As a non-profit educational institution holding the highest level of academic accreditation, The College has served as a valued business partner to banks, brokerage firms, insurance companies and others for over 80 years. The American College's faculty represents some of the financial services industry's foremost thought leaders. For more information, visit TheAmericanCollege.edu
###