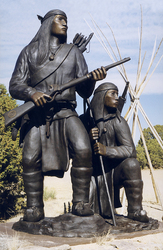 When placed in the context of his upbringing, his ability to take traditional themes and bring a relevancy to his artwork that speaks to a global audience is even more remarkable.
Santa Fe, NM (Vocus) October 16, 2008
For Immediate Release: "Unconquered- Allan Houser and the Legacy of One Apache Family" opens at the Oklahoma Historical Society on October 24, 2008. The exhibition of artworks, artifacts, and photographs will illustrate cultural survival and expression through five generations of one Apache family – the Haozous/Houser family. Spanning the years of 1886 to 2008 the exhibition will trace the family's history in Oklahoma. Allan's father, Sam Haozous, was among the Chiricahua Apaches forced from their New Mexico homelands, imprisoned in Florida, then Alabama, and finally assigned to the Ft. Sill Army base in Oklahoma.
The extraordinary life and career of Allan Houser will be portrayed beginning with his birth in 1914 on the family farm in Apache, Oklahoma. From these humble roots his rise to international acclaim and recognition as An American Master, will be documented through photographs, recordings, and examples of his artwork spanning five decades.
Allan Houser is attributed with almost single-handedly sparking the revival of stone sculpture in the twentieth century modern American art world and with the creation of a movement in modernist art that went beyond his Native American roots to touch and influence whole generations of artists.
The strength of the Haozous/ Houser family legacy extends into the 21st century with the artwork of Allan's sons Phillip M. Haozous and Bob Haozous. Major examples of their sculptural works will grace both the exhibition halls and the outdoor areas surrounding the Oklahoma History Center.
"Allan Houser's contribution to modern American art is unparalleled," said Kim Bourne, Chief Executive of the artist's estate. "When placed in the context of his upbringing, his ability to take traditional themes and bring a relevancy to his artwork that speaks to a global audience is even more remarkable."
Unconquered is running simultaneously with "Inspired Visions" at the Grounds For Sculpture in Hamilton, NJ both exhibits are two of four Allan Houser shows planned for the artist in the next 12 months. "Native American Picture Books of Change" will be held at the Museum of Indian Arts and Culture in Santa Fe, NM and a major outdoor show will be held at the Desert Botanical Gardens in Phoenix, AZ. For more information please visit our website, Allan Houser, Inc..
Allan Houser's recognition as a sculptor began in 1948 with the completion of his first stone carving titled "Comrade in Mourning", commissioned for the Haskell School in Lawrence, Kansas. In succeeding decades he would refine his approach to stone sculpture and complete hundreds of works done in marble, alabaster, and limestone. As a sculpture instructor in the 1960's and 1970's he transferred his expertise and ideas to countless students and helped create what many art historians consider a renaissance in stone carving. In 1992, a PBS film documentary referred to him as "The Dean of Stone".
Allan Houser, Inc. was established in 1982 and its mission is to preserve and present the lifetime work of the Modern American Master Artist, Allan Houser. It also produces limited edition works from original molds or patterns created by Allan Houser and from molds provided by other select artists. Its offices are on a 110 acre estate south of Santa Fe which encompasses the late artist's studios, sculpture gardens, a gallery, and full-service art foundry. It also operates a gallery in downtown Santa Fe and maintains affiliations with galleries and museums across the US and the world.
The Oklahoma Historical Society's mission is, "To Preserve and Perpetuate the History of Oklahoma and its people by collecting, interpreting and disseminating knowledge of Oklahoma and the Southwest."
For over 100 years the Oklahoma Historical Society has strived to protect, chronicle and share the history of our great state. The Oklahoma Historical Society maintains over 20 museums & historic sites and five affiliates located throughout Oklahoma. Intriguing destinations including historic homes, military sites, and museums offer a unique glimpse into Oklahoma's past.
###